Green natural diamond is not the easiest way to available but a lab-grown diamond is available; Jeweler will get the required carat, size, and price based green color lab-grown diamond. Green diamond-based jewelry is create a center of attraction and increases the value of ornaments. Fancy green color diamonds play a role in all kinds of jewelry. They are used as earrings, rings, pendants, necklaces, and watches. Additionally, they are used in all kinds of settings: signet rings, brooches, and inlay work. If you want vintage style diamond jewelry green color diamond is used for it.
Most of the time, diamonds are set in gold and silver. However, more are using lab-grown green diamonds as a sculpture material for various materials like glass, stone, or even metallic.
Most of the diamonds are set in gold and metal color most often used like white one. As a result, they are more durable and more resistant to scratches than other materials, giving them a very elegant look. This is especially true for diamonds that have a yellow or greenish tone due to their natural color. Some people consider the green color to be unlucky because it can be confused with a red color which represents blood and surgery. Others feel that it is one of the most valuable colors, along with the yellow and blue colors.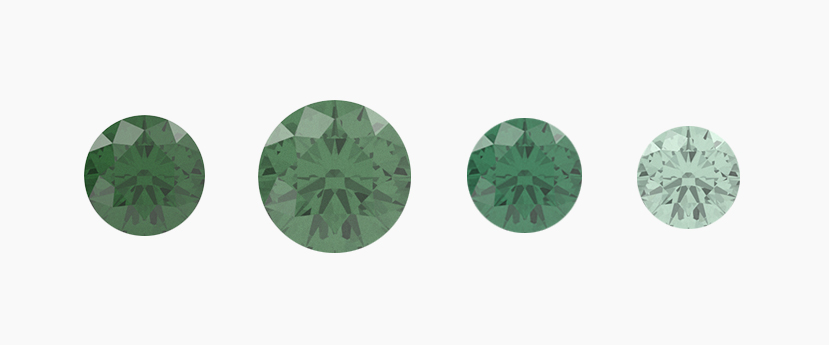 What Is Green Lab Grown Diamond?
In colored lab-grown diamonds, green-colored diamonds are frequently required because they are often used in diamond necklaces, tennis bracelets, and pendants types of fine jewelry. Due to their color, it is necessary to know how to recognize and select the best green diamonds. The best green diamonds are 100% flawless free diamonds. Those colored that have a few other colors are not considered green diamonds in this article.
What Makes Green Color Diamonds Green?
A green color diamonds make it green that is its body color and light passes on through it. Green diamond body color is a depth hue that gets color sparking. In a green diamond, there are dark green more popular rather than light green.
How much do fancy green color diamonds cost?
Fancy green color lab-grown diamonds are usually quite affordable compared to the natural green diamond it is a rare diamond and hardly found it. A 1-carat natural green diamond cost is $1,20,000 cost around but in a lab-grown, it is cost you 40% cheaper price. Green color diamonds are extremely demanded all-time in a jewelry market and want from small size diamonds to big carat diamonds. 
Shades of Green Color Diamonds
Color scale grade describes the different categories of green fancy color diamonds like light green, deep green, very light green, yellow-green, light yellow-green, intense-green, and vivid-green.
Light green
Green color diamonds that fall under the light green category are called Fancy Light Green Color Diamonds. This diamond has a very light green color with a hint of blue. The color is much lighter than most of the other green diamonds and is considered to be one of the most affordable fancy green color diamonds.
Deep green
The deep green colored diamonds have a dark coloring, with tones of forest or emerald green. The color is considered to be one of the most desired types, and the prices range is affordable.
Very light green
Light green comes with very light shades that are the strong color of green with a yellow hue. This shade of very light green diamonds is used mostly in necklace side diamonds to get more attraction.
Yellow-green
The yellow-green colored diamonds have many shades, such as forest yellow-green or deep emerald green. It usually has a little yellower tone than deep green color.
Light yellow-green
The light yellow-green colored diamonds have the same shade as the color of light green diamonds but with lighter tones.
Intense green
The intense green-colored diamonds have an intense color of green with a strong yellow tone. The name intense green is derived from the intense yellow hue that this type of diamond carries.
Vivid green
The vivid green-colored diamonds usually have a very dark color tone with an intense yellow hue. These diamonds have a dark and vibrant color like forest green or deep emerald. The name, vivid green, is derived from the way it looks when you look at it with your naked eyes, and the yellow hues brighten up along with them.
The most desired Green Diamonds are transparent to translucent with good color and clarity. Fancy vivid or intense deep green color diamonds having noticeable inclusions will sell for considerably less than comparable, transparent ones. Premium prices are paid for VVS1-VS2 colored stones and for large size stones (over 5 carats).
Uses for fancy green diamonds
The green color of lab-grown diamonds is jewelry valuable because of their attraction jewelers love to wear green diamond-based jewelry at a party and a special times. The costs of green diamonds can vary depending on the size and quality of the diamonds. Large diamonds with high quality will give about 50% more value than ones with a lower quality.
In the diamond industry, fancy green color lab-grown diamonds are more demandable than other colors of lab diamond-like orange, pink, etc. But in the market of colored diamonds, white diamonds are more required than colored diamonds. This is because most consumers want to own a diamond that does not stand out and is not as noticeable. It can be used in any jewelry worn on all occasions, and it can also be kept for investment purposes.