5 Stylish Lab Grown Diamond Earring Design Trend That Attract More
Lab grown diamond and it's jewellery demand are booming in a entire world, Lab grown diamond earring is one of them. You will now buy lab grown diamond earring with various types of style of design or also you will order customized jewellery for self or for customer.
Lab-created diamonds look and feel just like the real thing and come with many of the same qualities. The only difference is that they originated in a lab rather than through natural means. They are real diamonds that have simply been created artificially in a lab.  Lab diamonds are comes with brilliant creations come with the same qualities as their mined counterparts, such as emotional value and so forth, but don't require miners to risk life and limb to extract them from the earth. Lab made diamonds can be made without the unwarranted risks, and if you want a diamond with sentimental value or that has some other special meaning to it then this is your best choice. 
Diamonds are measured by their carat weight, so two diamonds of one-carat weight will have the same size, but will of course differ in value depending on their quality. While lab-grown diamonds are generally more expensive than "regular" mined diamonds, they still offer a great deal of value. You will get details about natural diamond vs lab created diamond details.
What are lab grown diamond earring?
Lab-grown diamonds are used by a manufacturer of diamond earrings. You might not realize it at first glance, but if you look closely you will notice that a particular pair of diamond studs is not made with mined diamonds, but rather with lab-created diamonds, natural diamond based earring and jewellery more expansive rather than lab diamond one.
Diamond earrings are available in a variety of shapes, sizes, carats and weight. An earring with diamonds is available in a variety of sizes and shapes. The four basic styles of diamond earrings include Hoops, Studs, Drops, and Dangles. Drops have a longer drop from the earring post than other styles. Hoops, which feature circular shapes, are often made of platinum or gold instead of white gold or silver. Dangles come in stud and drop designs. Studs are small pierced-ear pieces where drops hang down slightly longer through the piercing hole. The diameter of a diamond is its width across the widest point.
Which Style Choose Lab Grown Diamond Earring?
An earring with a single stone or a cluster of stones placed in the lobe. They come in a wide variety of metals and styles. Stud earrings have posts that are inserted into the lobe through the small hole made by an ear-piercing. There are hoops, studs, drops, and dangles available in many settings such as gold, silver, platinum, or rose gold.
The settings can be studs or posts with butterfly backs in hoop earrings. Hoops hold a single stone on top of the earring with posts that keep it in place. They have backs that twist closed to secure a tight fit. As they are made of metal, they can be given any shape, such as a butterfly or other design. Somebody jewelry comes with short extenders that allow the wearer to use them multiple times before replacing them.
The larger dangling earring dangle style has long posts that dip down into the lobe and are attached by small dots at the end for clearance when worn under clothing. They can be dipped in any color, to allow matching up with any outfit. All of these earrings are available in sizes and shapes. They are offered in a wide range of diamonds with varying qualities and they can cost anywhere from a few dollars to thousands of dollars.
The popularity of lab-created diamonds has been increasing since their creation in the 1990s. They are essentially the same as mined diamonds but on the downside, they do not have the same sentimental value that mined diamonds have.
Best Lab Grown Diamond Earring for your Style
There are many different types of lab-grown diamonds earrings. In this article, we have discussed some of the most fashionable earrings that you can buy for yourself.
The earrings were originally made for pierced ears and now manufacturers are making them for non-pierced ears too. However, the design is still very similar, so it is essential that you pick the right pair of earrings for your ear shape. A lot of people will buy a pair of studs or a pair of hoop earrings that are similar to their personality or style. You can buy these any time and see if you like them and then get more, especially if you need an everyday pair of diamond earrings.
If you need a pair of diamond earrings for a special occasion such as a wedding, you should definitely buy the same pair again. It is important to pick the right earrings for your particular event. If you are buying them for a wedding and the bride's family don't like them too much, then you should change your mind about that particular style, so that she can be happy. You can also buy a pair of diamond studs for a non-special occasion, such as your birthday or anniversary.
Types of Diamond Earrings
There are various types of earring design and style available which you can choose it for your self or for selling online jewellery store.
1. Dangle Drop Diamond Earring
This type of diamond earring consists of a small piece of lab-grown diamond set in an open, dangle style setting. They have a wide, flat plate at the bottom, which is used to create a catch point and helps them hang correctly. This type is ideal for medium to large earlobes.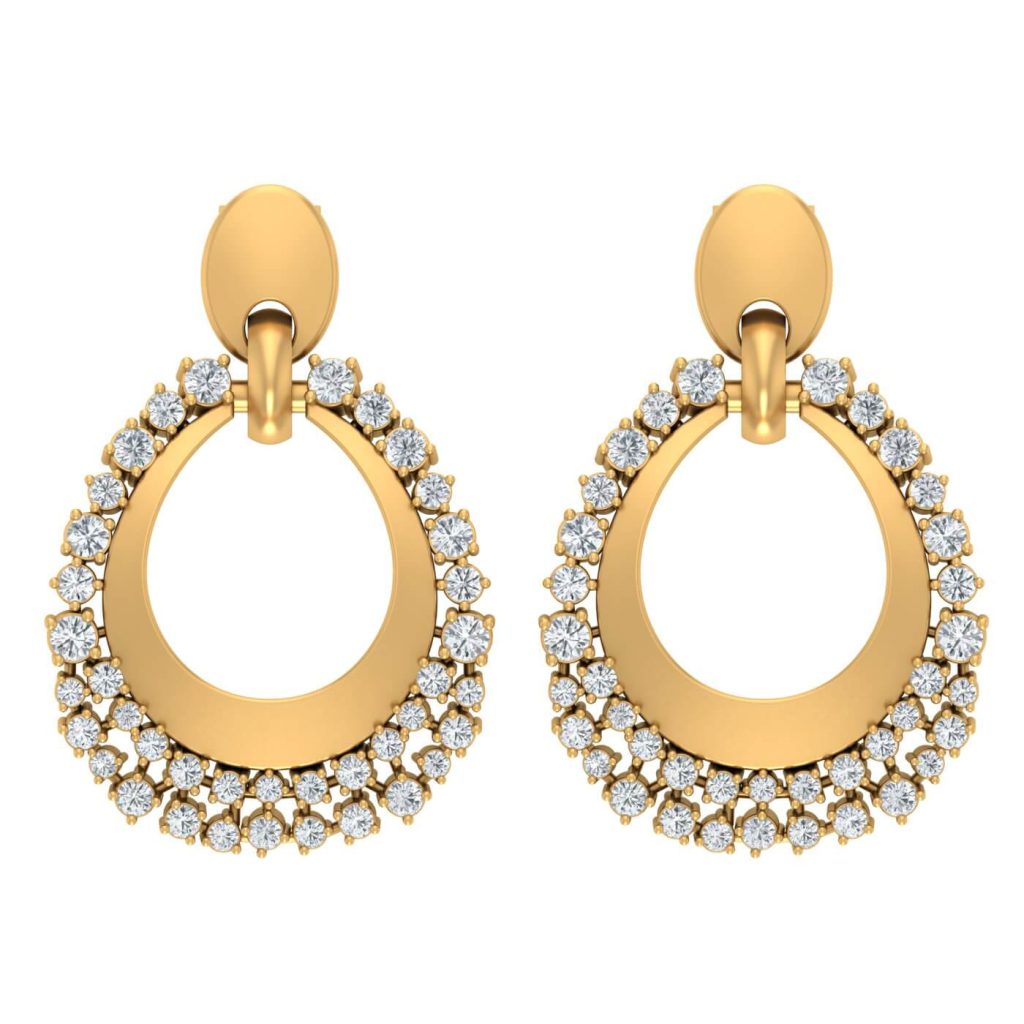 2. Hoop Lab Diamond Earring
These lab-grown diamond earring styles have their diamonds articulated in a hoop shape that matches their setting. These hoops are often two-dimensional or have a domed shape. The benefit of this type is that there is very little metal showing and it makes the gemstone appear larger. These are perfect for the day or an evening out. These earrings will catch the light and you will feel like a million bucks. They are beautiful and elegant, without being too over the top. Just one piece of lab-grown diamond is all that is needed to make your outfit look classy and stylish.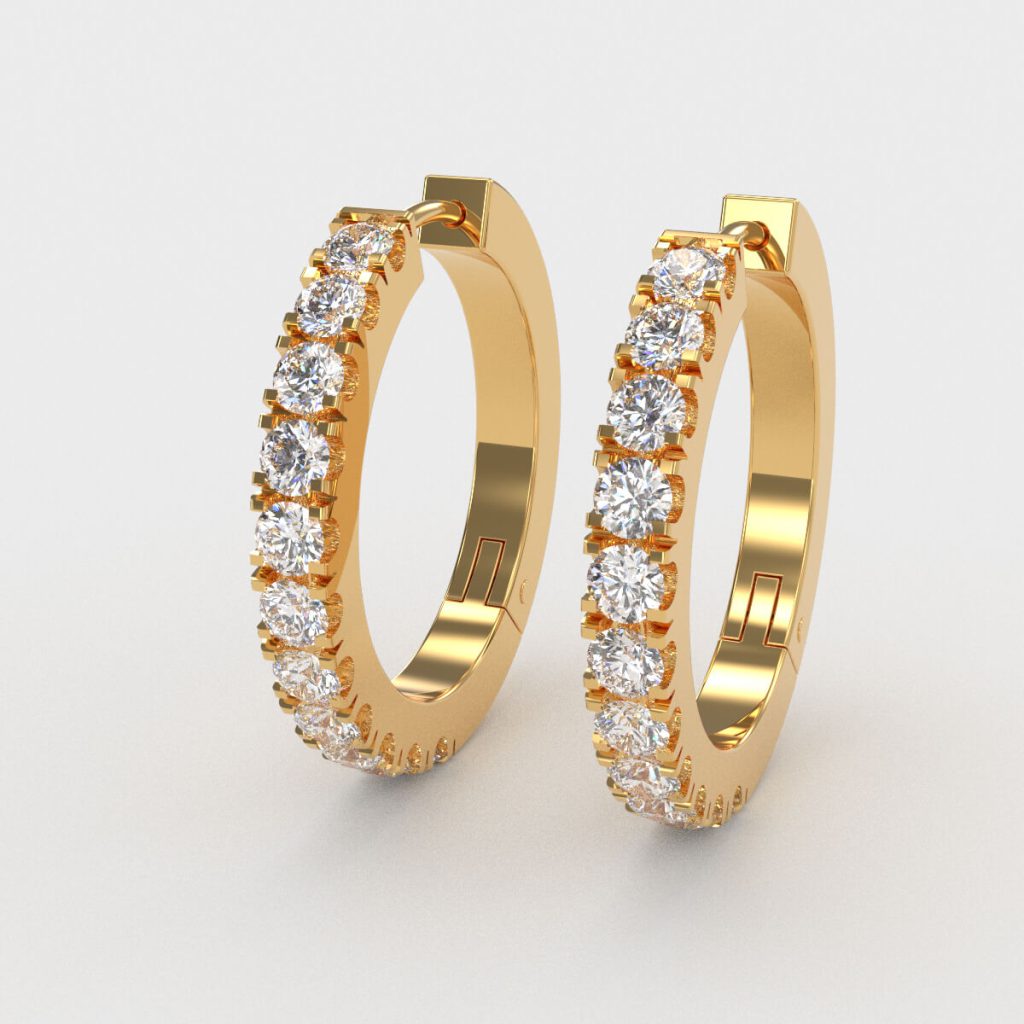 3. Cluster Lab Diamond Earring
These lab-grown diamond earrings have a cluster of small gems set in a metal setting that looks like a cluster of grapes. These are perfect for those who are looking to get the look of diamond without being subjected to the price tag.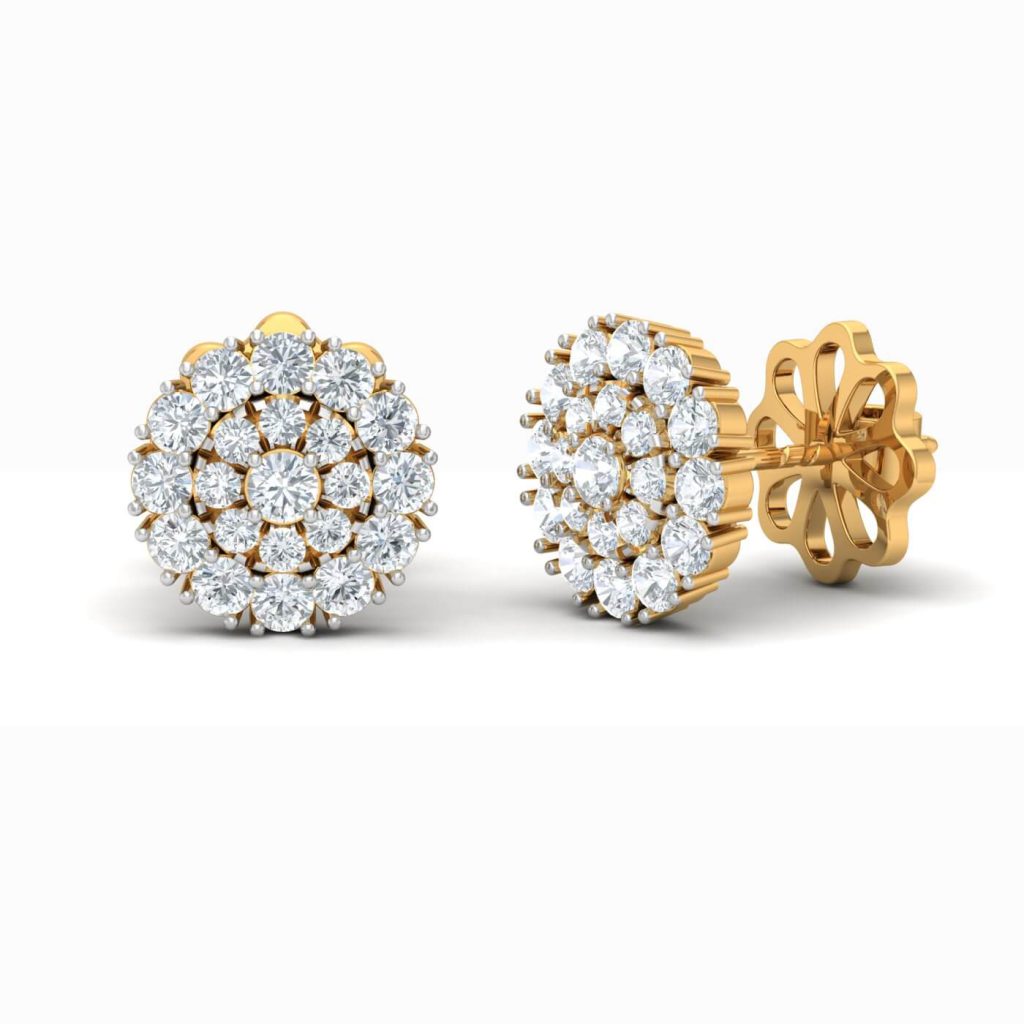 4. Round Leaf Diamond Earring
These earrings have round-shaped with small leaves around the earring. The small round lab-grown diamonds are set in a metal mounting with open settings that allow light to reach within. Because they are so light in weight, they hang very comfortably and look absolutely stunning on their own, or with other earrings.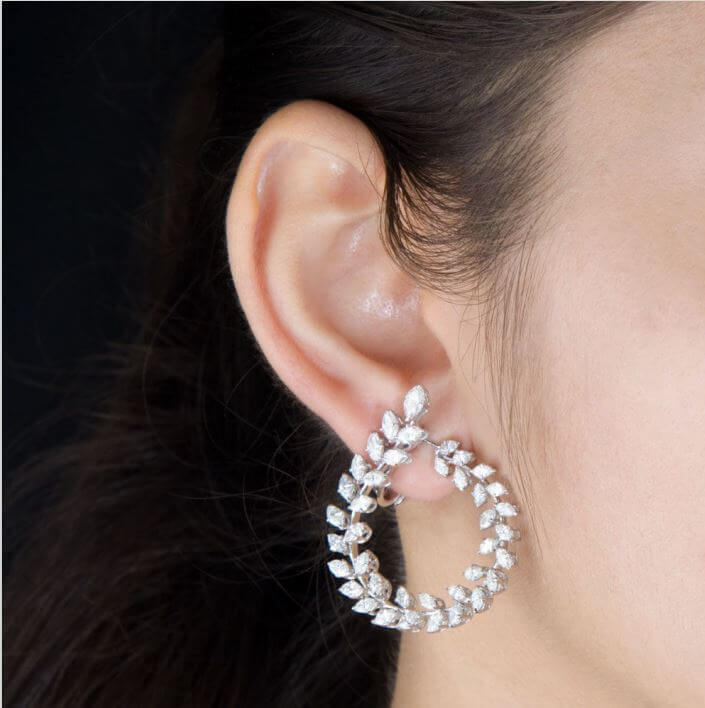 5. Princess cut Lab diamond Halo earring
These are a great choice for large earlobes. A Princess cut diamond is small and delicate, so the halo will expand to fit around your lobe. These are great for any occasion and they look absolutely beautiful. You can choose from a variety of different cuts and styles, which will complement your outfit or occasion.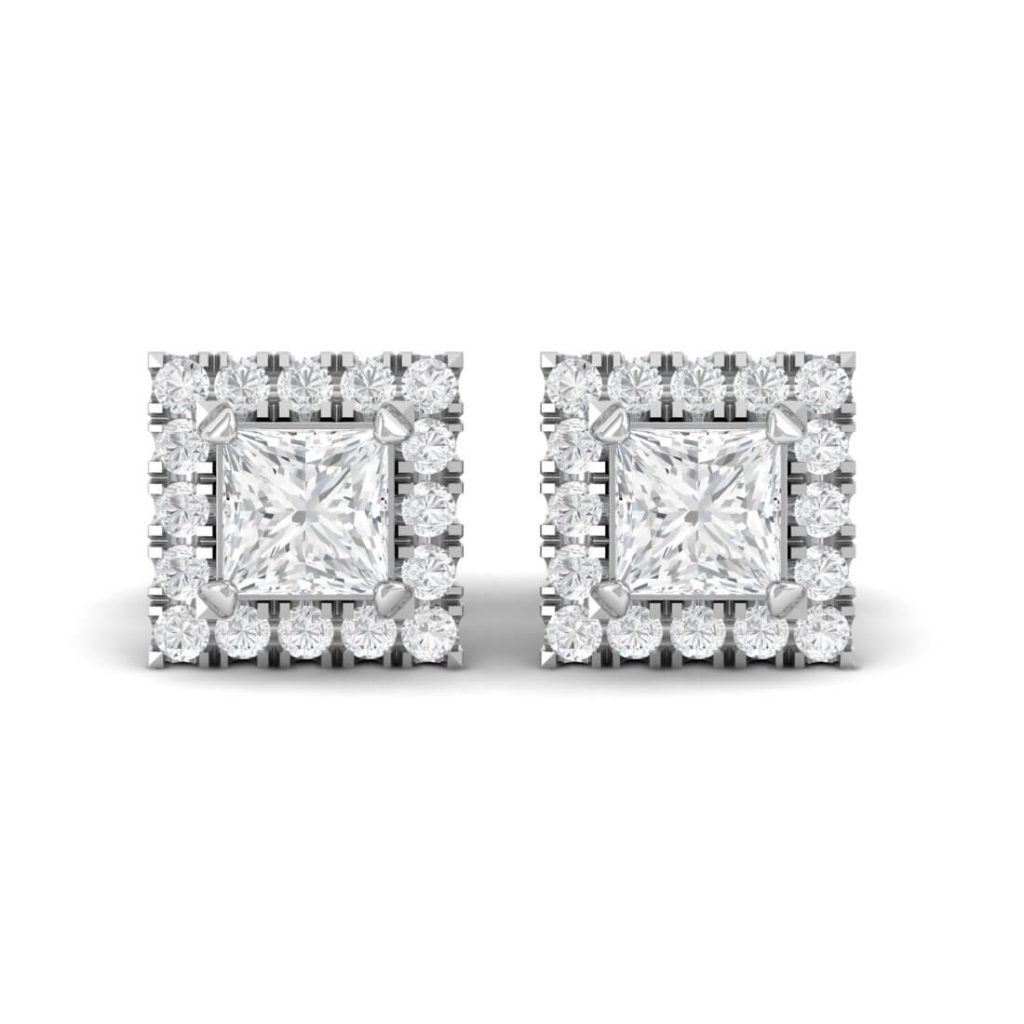 Tips For Buying Lab Grown Diamond Earrings
While buying a lab-grown diamond you have to look for the quality of the earring. The quality of diamond means clarity, color, and cut . You should also look at the overall size of the diamonds. You don't want to look too big or too small, so it is important that you take a good look at the scale on your earring. The last thing you have to do is make sure that they are made with good quality metal, such as gold and platinum, to make sure that they will last you for many years.
There is a lot of value in buying lab-grown diamond earrings. You get the look and shine of diamonds without having to pay thousands or tens of thousands of dollars. They are durable, so they can be worn on many occasions before you have to buy a new pair. If you are looking for the best deal possible, then you should consider lab-grown diamonds. The price of these earrings is much lower than other diamond earrings on the market. If you are looking for a special pair of earrings and you don't want to spend a lot of money, lab-grown diamonds may be exactly what you are looking for.
The appearance of the diamond will be different once it is in your ears. The actual cut and shape might vary from the image above but this does not change the essential look of the diamond itself.
Lab-created stud earring prices
The lab-created stud earring prices vary from $8,000 to $18,000 depending on quality and size. The lab-created diamonds cost very less than mined diamonds.
You can order your favorite lab-grown diamond earrings from online shops and stores. The internet gives you the luxury of looking at a wide range of earrings at the same time, you can compare prices and quality too.
Lab-grown diamond stud earrings are not just for the rich and famous. They can be a great, affordable option for the everyday woman who wants to add some bling to their look. While they are not as expensive as mined diamonds, they can still shine in a big way. If you are looking to buy a pair of lab-grown diamonds earrings, this guide can help you find the right ones.
FAQS:
What are the Best Lab-Created Earrings?
It depends on a number of factors.  The most important thing to consider is their purpose. Are you buying them for everyday wear or for a special occasion? Are you looking for something that will complement your outfit? If you are looking for something affordable, you should buy a pair of lab-grown diamonds that are at a discount from the current market price.
What are the different types of diamond earrings?
There are a number of different types of diamond earrings. As diamond styles, types, cuts and sizes vary, there are a number of different options that you can choose from.  The important thing is to consider your budget, personal style, and lifestyle as this will help you narrow down the choices that you have.  Some earrings will be perfect for an occasion or a special day while others are great for everyday wear.