Lab Diamond Studs For Everyday Use
Lab diamond studs earring is best ornament that wear on everyday And this jewelry ornaments that is made through lab grown diamond. Diamond stud are beautiful, timeless, and can be worn with a variety of design like single stud solitaire diamond earring, halo style stud earring etc.
Before purchasing stud earring choose a best diamond cut that has an emphasis on brilliance and fire, And the designs (or should I say cuts) will catch the eye and make you look like a million bucks.
Princess, hearts, pear, and oval cuts are available in diamond cuts, but the most popular cut in stud jewellery is Round Cut and mostly looks good in earrings, engagement ring, bracelets, and pendants is round. And, All these cuts and shape also have a wonderful sparkle when contrasted with fine metals like gold such as a white gold, yellow gold and rose gold.
So, if you're looking for the perfect pair of everyday earrings to make a bold fashion statement, diamond studs are the best way to go. However, it is best to make sure that you always buy your diamond studs from a reputable seller who offers good customer service and has great reviews. Finegrown diamond is make customized stud earring as per customer requirement.
What is a Stud Earring?
Diamond stud earrings are a pair of stud like earrings with a single diamond at its center and hold with 6 prong or 4 prong setting option. Usually, diamond stud earrings are set in gold metal. You can go with white gold, yellow gold and rose gold as a gold color option with 14k to 22k gold carat option.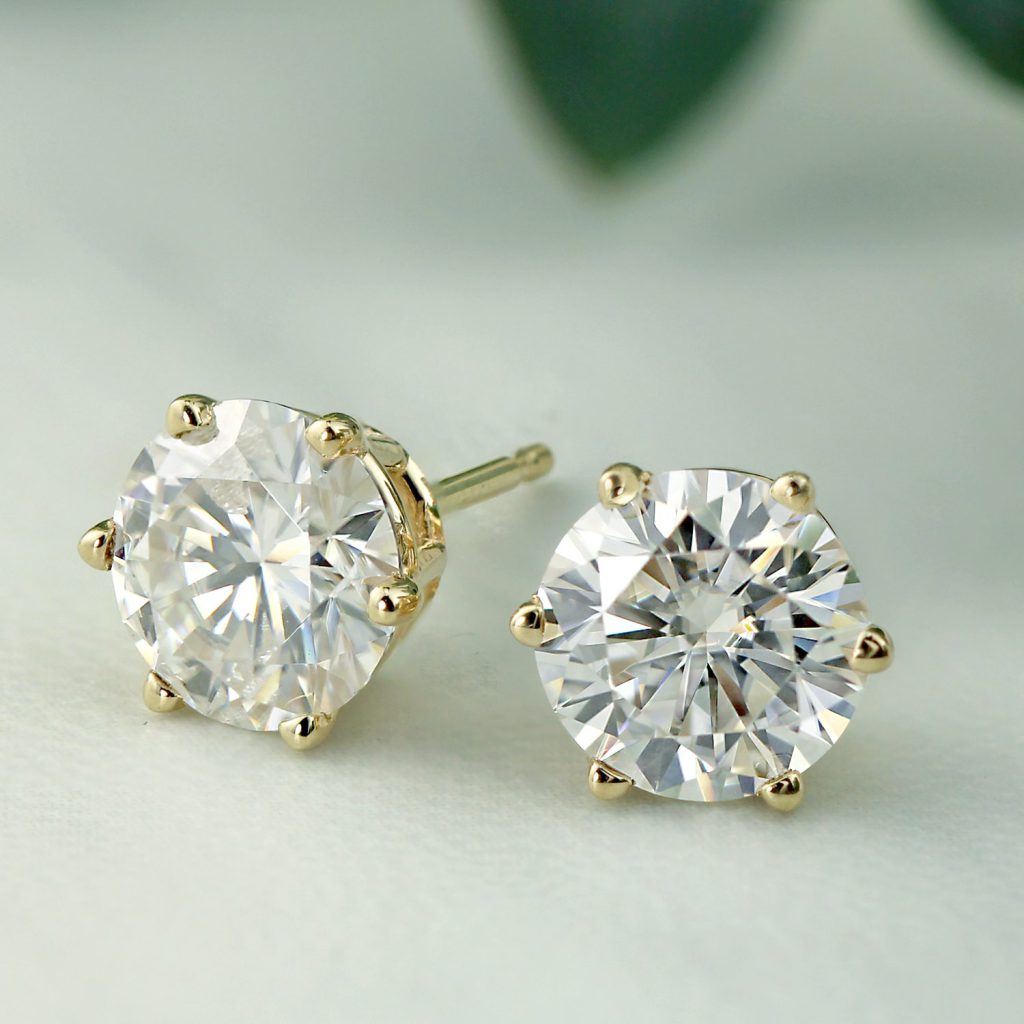 EARRING TYPES:
Initially, stud earrings were known by the name of "single diamond earring" due to their single diamond or bunch of diamond like appearance. Stud earrings have a lot of variations like hoop earrings, heart earrings, and flora pendant earrings. These are just some examples of stud earrings more one you can find in the online stores.
HOW TO CHOOSE A PAIR OF LAB DIAMOND STUDS EARRING?
Picking a pair of flawless lab grown diamonds stud can get difficult as there are many things you must consider while buying them. So, we have created a list of masterful criteria you must consider while buying a pair of lab created diamond stud earrings.
PRICE – When diamond come price matters, right? It's not just about the price; it's more about the quality and durability of the jewelry as well. Diamond stud earrings are a drop-dead option for those who want to invest in something spend yet usable. So, before you pay for them, make sure that you get to know about the quality of this product.
TYPE OF DIAMONDS -Diamond that along with their shape and size will decide the overall look of the studs, And diamond carat and size defiantly matter as well. Make sure that you've knowledge about the cut and shape of a diamond, If no then go our diamond size chart page to get better knowledge.
RING SIZE – When buying diamond stud earrings, make sure to get your ring size done by a professional jeweler. This will help a lot in getting your earrings fitted precisely into your ears.
CLARITY – The clarity of the diamonds will determine the brilliance and sparkle of your studs. A clear diamond will produce a brilliant sparkle while a cloudy one will not.
COLOR – Diamond-studded earrings always come in various colors like White, yellow, pink, blue silver, etc. But make sure that you look at all the colors and see which one compliments you best before making a final decision.
LUSTROUSNESS – A clear diamond will produce a brilliant sparkle while a cloudy one will not.
CARAT – The carat determines how much the weight of your diamond studs is. Make sure to buy diamond stud earrings that are at least 2 carats or more. If you have a small budget, go for 1-carat studs as they are just as drop-dead as 2 and 3 carats ones.
Why Studs Are Great for Everyday Wear?
Most studs tend to catch the attention of others as you wear them, and that makes them a good choice for everyday wear. If you are not sure about your choices, here are some great reasons why you should consider diamond stud earrings for everyday wear:
EYE-CATCHING DESIGN – Diamond stud earrings have a simple yet beautiful shape and look that catches people's attention. Since they are studs, they will add elegance to your outfit while drawing attention towards your eyes as you focus on the beauty of the diamond.
SYMBOL OF CLASS –Diamond studs are usually worn by women. So, when you wear them; it is like wearing a symbol of class and sophistication.
BRIGHTNESS –Studs with a clear cut will give you the best sparkle among all other types of earrings. They also have a unique style that is unique from other earrings.
COMFORT – Studs are not only beautiful but also comfortable to wear. Diamond studs are not just for women; they can be worn by men as well.
What exactly is a lab-grown diamond?
Some of you might have heard the term "lab-grown diamond" and lab created diamond but what does it actually mean? Well, a lab-grown diamond is a type of diamond as opposed to an "in-mine" diamond, that is look a like same mined diamond in a weight, quality, clarity and everything In order to grow diamonds, the process is actually fairly blank.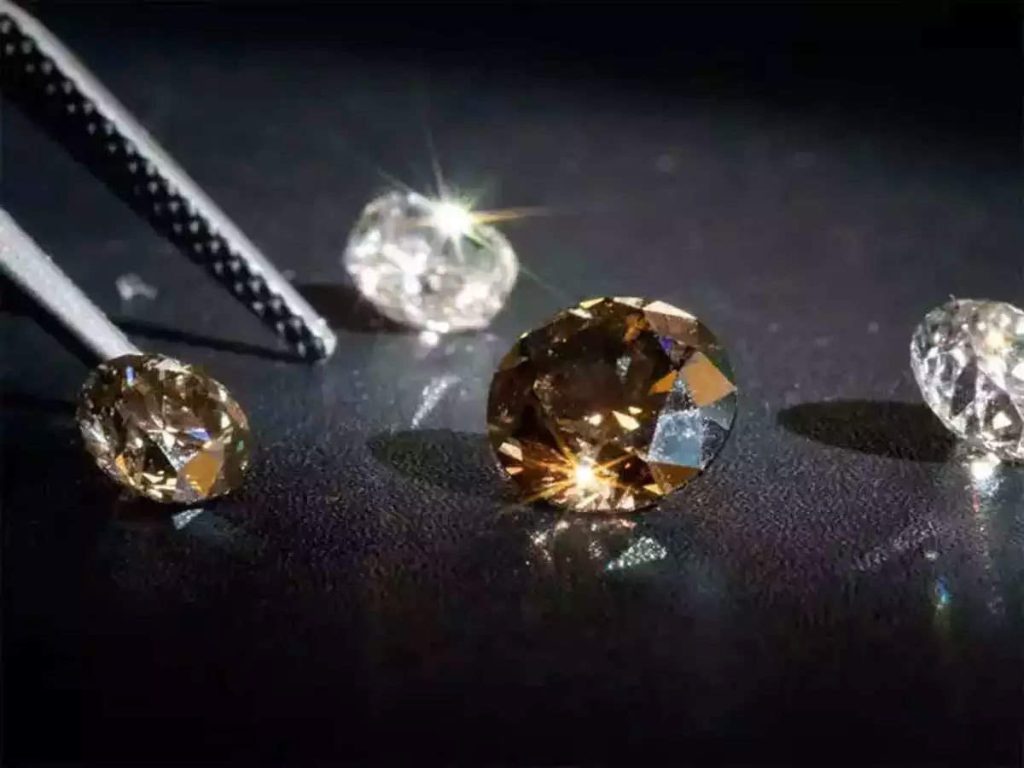 First, you need to find a location where there are lots of carbon-lush minerals that can be mined for the purpose of growing diamonds. The mineral then undergoes a process involving high temperatures and pressures to produce a carbon-lush diamond. Once the perfect conditions have been adjusted for, the diamond is then cut; which is where most of the interest comes in as it is made from man-made material.
The lab-grown diamonds are harder than their in-mine coequal and have laser, durable and radiant shine.
Lab Diamond vs. Natural diamonds
Natural diamonds can take millions of years to form within the crust of the earth. On the contrary, lab-grown diamonds can be produced at a much faster pace while still having the same chemical structure and optical properties as their natural and equal. Think of the process as being similar to that of genetically modifying fruits and produce. It is the same process that has allowed us to eat bananas without seeds. What are the results of buying a lab-grown diamond?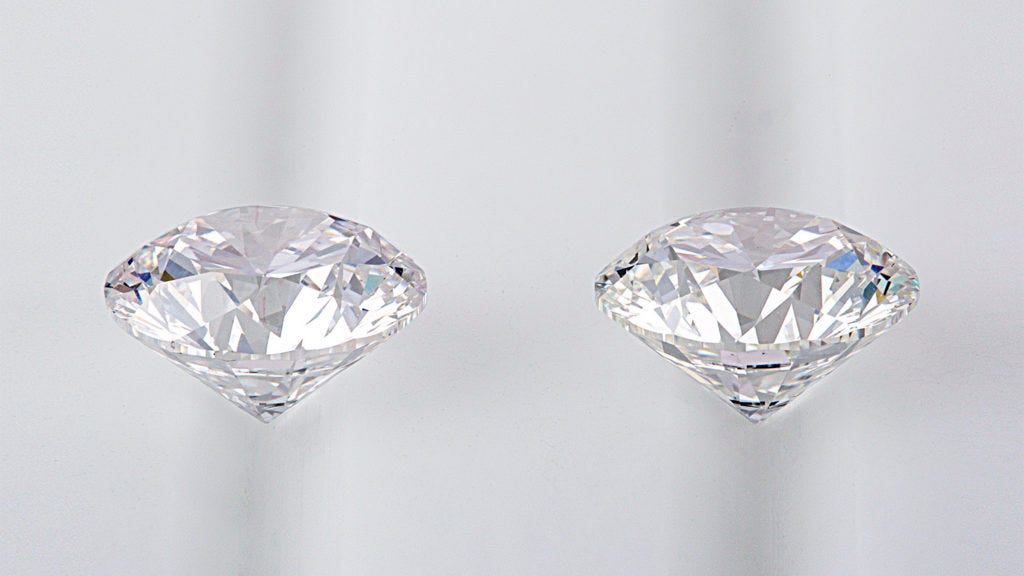 Not only do you get to wear a stone without any visual imperfections or blemishes, but the price is considerably lower; which makes this type of gemstone an prime option for anyone looking to buy a gem that has an equally lovesome look and feel.
Most importantly, lab-grown diamonds are also just as durable as their natural partners and will stay intact even through harsh situations. Since they are not subjected to mining, you can also be sure that your lab-grown diamonds will not be damaged by harmful chemicals or other harsh conditions. Overall, buying a lab-grown diamond is an excellent way to ensure that you get the quality and beauty of a natural diamond at a price that is much more affordable.
Rising Popularity in Lab diamonds
With more and more people realizing the benefits of lab-grown diamonds, the demand for these gems is steadily on the rise. In fact, some of these diamonds are actually starting to gain ground and potentially become a viable option to their natural partners in the near future.
A better understanding of these gems as well as their increasing demand makes it very easy for consumers to find them with ease. Many people assume that only certain jewelry stores carry lab-grown diamonds; but thankfully, there are many other options available if you know where to look.
The main factor that has been a key factor in the rising popularity of lab-grown diamonds is the fact that they are cheaper than their natural counterparts. Although the price of a lab-grown diamond may not be as attractive as that of a natural diamond, it's still much more affordable.
Not only that but the overall look and feel of these diamonds is also superior to their natural look-alikes making it much easier for people to make an informed decision.
Pros of Lab Diamonds
Lab diamond jewelry offers plenty of perks and benefits – which are some of the reasons they make for the perfect pair of stud reasons. In addition to letting us fast-forward the diamond creation process, lab diamonds can give customers peace of mind by being more affordable and better for the environment Here are some additional pros of lab-grown diamonds:
1. Better for the Environment One of the best perks of lab diamonds is that they're really better for the environment. They're grown in a man-made environment and do not require harsh conditions or heavy amounts of resource extraction like in-mine diamonds. The process to grow these gems is also much faster than cutting them out of rock, so it doesn't require huge amounts of energy or create tons of waste.
2. A Great Investment Lab diamonds are also commonly known as conflict-free diamonds. This means that they can be more easily bought and sold without having to worry about their history, so they make a great investment piece.
3. Laser, Durable and Sparkling Shine Lab diamonds have a beautiful laser and durable shine that sets them apart from other types of gems. They are also much more brilliant, which is what people usually look for in a diamond.
5. Imperfections and Inclusions Because lab diamonds are grown in a controlled environment, you don't have to worry about imperfections or inclusions that might make the earrings look more natural.
Sustainability
Diamonds that have been buried for millions of years can sometimes be hard to get. Scientists and environmentalists believe that growing diamonds in labs requires less energy than digging them out of the ground. So far, this method has proven to be successful and sustainable.
FAQs
What is the difference between a natural diamond and lab-grown diamonds?
On the opposite, lab-grown diamonds can be produced at a much faster pace while still having the same chemical structure and optical properties as their natural counterpart.
What Are Stud earrings?
Stud earrings are earrings that consist of a single diamond or gemstone.