How Big Should Your Wedding Ring Be? The Biggest & Smallest Wedding Rings
Wedding ring is not only a piece of jewelry but a symbol of your love and loyalty to each other and is something that you have to wear on a daily basis, so your wedding ring size should be perfect!
Many of you have questions about the big wedding ring diamond size. The decision on what size wedding ring to purchase can be confusing for many couples. Don't worry! We're here to help you out of this situation. You can find the correct wedding ring size by reading this blog. In this post, we'll cover different types of diamond sizes for wedding bands and how each affects the diamond's appearance and cut.
And to make it easy for you all couples out there, we'll also discuss some diamond wedding band design tips to showcase large diamonds in a creative way.
What is a big wedding ring Diamond size?
A wedding ring diamond size refers to the size of the diamond in the center or the design of the band. Generally, a big diamond wedding ring size has a larger band design and a larger diamond or gemstone in the center. When a diamond encrusted in a wedding band measures 2 carats or more than 2 carats, it is considered a big diamond wedding ring. Well, a carat is a unit of measurement that refers to the diamond's size and weight, 1 carat equals 200 milligrams, and 2 carats equals 400 milligrams. Two carats diamond for a big wedding ring is large enough to be categorized as a big diamond wedding ring.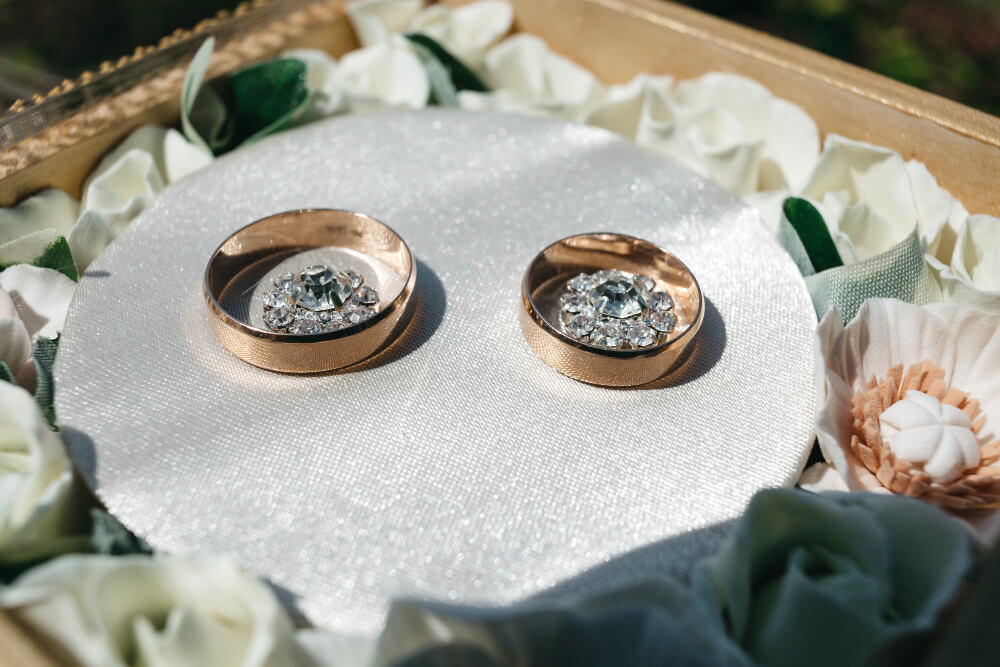 They are also known as statement rings because a large diamond in a wedding ring adds a luxurious and more dramatic look. A big diamond wedding ring will always add more sparkle and shine than smaller ones, no matter what design and setting it is. So, if you are one who loves the bold look, the big diamond wedding ring is an ideal choice.
Average Diamond Size of big wedding Rings
It is very important when it comes to wedding ring diamond size because the cost of the ring will also depend on the diamond carat size. There is a wide range of diamond sizes available, from smaller to biggest, to choose from. A big diamond wedding ring is the perfect choice when you want an eye-catching and majestic look for your wedding outfit. On the other side, if you want something delicate and subtle look you can go with a smaller diamond wedding band.
Let's take a look at some of the famous diamond carats that are the most commonly used for diamond wedding rings.
1.5 carats diamond
There are many factors to consider when choosing the perfect diamond ring. And 1.5 carats diamond might not be too big or too small for someone who wants a delicate bold look, while others may want something a little bit bigger. Ultimately, the size of the diamond ring is up to the couple's preference and budget.
For those who don't mind going with a smaller option, 1.5-carat diamond rings can be made in various styles and designs to make them look bold- including double halo settings that make them even more special and delicate-looking. If you're looking for an engagement ring or wedding band that stands out from the rest, go for something over one carat!
2-carats diamond
When it comes to wedding rings, the second average diamond size is 2 carats. While this might not seem like a lot, it's actually enough to make a huge impact on your big day. Not only that, but smaller ring options are also available – but they won't have the same impact.
So, if you're on the fence about whether or not to get a bigger ring, go for it! Your fiancé will appreciate the gesture and you'll be able to enjoy wearing it for years to come.
3-carat diamond and above
When it comes to selecting something big and shiny, go for something with at least 3 carats of diamonds. A three-carat solitaire ring is the most elegant and classy way of wearing a diamond wedding ring– perfect for those who want an understated and sophisticated look.
Alternatively, you can also go for more unique shapes such as marquise or emerald cut diamonds.
Carat vs. Size Appearance
The carats of the diamond can affect the size ultimately, of the ring. For example, the more the diamond carat weighs the big it will look in appearance.
The size of the diamond ring is up to the couple's preference and budget. However, carat weight does play a role in how a ring will look on your finger. So if you're looking for the biggest ring size possible, aim for a diamond with a higher carat weight. Conversely, if you're on a budget and don't mind going with a smaller ring size, consider choosing diamonds with lower carat weight. Either way, the ring will still be beautiful!
How Cut Affects Size and Appearance?
Diamond cut can also make a huge difference when it comes to a wedding ring diamond's size and appearance. The diamond cut determines its shape and brilliance. As per the GIA grading system, diamond cuts are graded as Excellent, Very Good, Good, Fair, and Poor. Generally, a very good-cut and excellent-cut diamond will shine more and have maximum brilliance as compared with a poor-cut diamond.
Diamonds cut are not only defined by their shape but also by how deeply and sharply they are cut. In short, it is about the fire and brilliance of the diamond. So, if you are looking for high-quality sparkling diamonds, you can choose a very good cut or a good-cut diamond for your wedding band to add more shine.
Design Tips to Showcase Large Diamonds
When you are done with your diamond carat size, it's time to choose your wedding ring design. There is a wide range of designs available out there to showcase your diamond in different ways, from the biggest to the smallest.
But how big should your ring size be? The answer is it depends! In order to make your diamond appear large, there are specific settings to choose from. It's important to choose a setting with a bold and intricate design when showcasing large diamonds.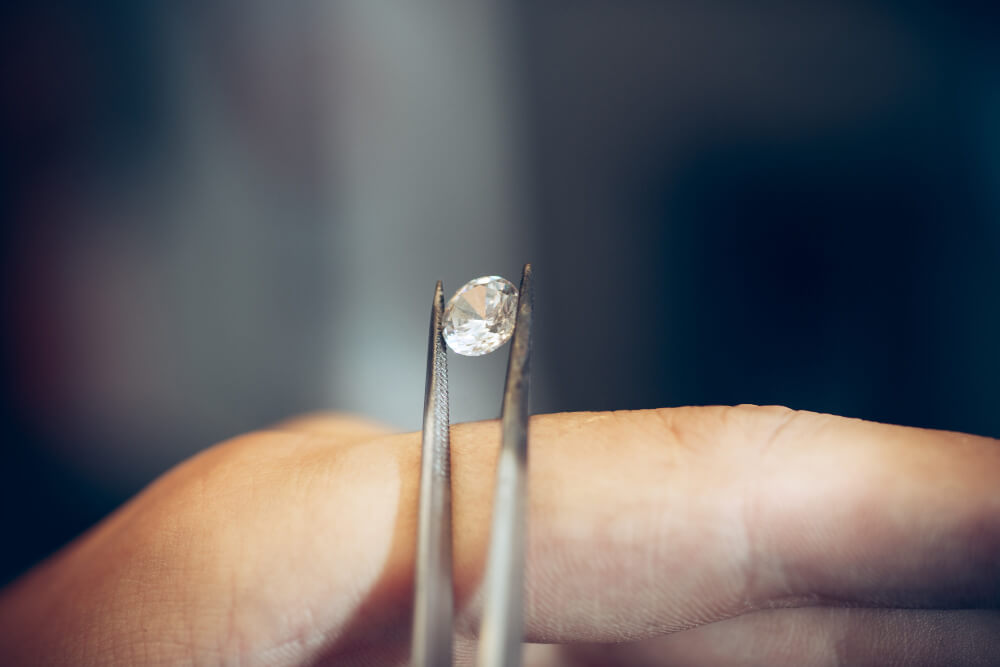 And when you are more into the traditional design, you can opt for an antique-style ring setting or filigree design to highlight the size of your diamond. Or, if you are into modern design, you can go with solitaire with a halo diamond setting or solitaire pave band setting.
Below are some diamond ring-setting ideas that illustrate the diamond's size and design in a more eye-catching way;
| Big Diamond Sizes | Band Designs | Big Ring Settings |
| --- | --- | --- |
| Under 1.5 carats diamond | Plain gold band | Cluster diamond setting |
| Under 2 carats diamond | Channel diamond band | Double prong setting with solitaire princess cut diamond |
| 2 carats diamond | Half pave band with small diamonds | Hidden halo setting with a round-cut diamond |
| 2 carats to 3 carats diamond | Split shank diamond band | Halo setting or double halo setting with a diamond of your choice |
| Above 3 carats diamond | Small diamonds pave band | Solitaire setting with cushion cut, oval cut, or emerald cut diamond |
| 4 carats diamond | Plain band | Three-stone setting with a pear-cut diamond |
| under 5 carats diamond | Thin pave diamond band | Thin halo diamond setting with an oval-cut diamond |
| Pie cut diamonds | Split shank plain band | Three-stone setting with Emerald pie-cut diamond |
Halo Setting Wedding Ring
There are a lot of factors to consider when choosing the best setting for your diamond wedding ring or engagement ring. One popular option is the halo diamond setting, which showcases the diamond in the best way possible. If you prefer smaller diamonds set in types of settings to highlight the centre stone, this is an option available to you.
Remember that your wedding ring should always look good and match the rest of your outfit! By taking these simple steps, you can make sure that you get exactly what you want – not what someone else thinks would be perfect for you!
Cluster Setting Ring
A cluster-setting diamond ring is an ideal choice for those who are looking for a little bit more sparkle and extra. It consists of smaller diamonds clustered together, giving the impression of a large diamond. The effect is that the diamond looks like it stars on the finger. It's suitable for someone who wants an exquisitely sparkly ring without spending a lot of money on a large centre stone.
You can customize the look and feel of your jewel by setting your own ring. Finding the right diamond ring setting is easy with a little research!
Double Halo Wedding Ring
If you are planning to wear something large and sparkly diamond ring on your wedding day, make sure to showcase it in the right way. And a double halo ring is a perfect way to do this – it will show off your diamond and gives a luxurious touch. There are different ways to style a double halo ring – so choose one that suits you and matches your personality perfectly.
By looking at some trends and choosing a ring that fits into these patterns, you can ensure that your wedding ring will be perfect for you!
Pave Halo Setting Ring
You can show off your large diamond with a halo ring that features a pave setting of diamonds on a shiny band. With its metal band encrusted with diamonds and a large centre stone in a halo setting, this ring has an intricate and elegant look. It can be made in any size and shape of diamond you want and will always look exquisite. So if you are searching for the most stylish wedding ring, a pave halo setting should definitely be on your list!
FAQs
How do you take care of a big wedding ring?
In order to maintain the durability and shine of a large wedding ring for a long time, it is necessary to keep the metal clean. If your wedding ring is made out of gold metal or real or lab-created diamonds, you don't need to worry about it, but if you have a ring made with silver and CZ diamonds, you need to take a little care of it.
Make sure you do not wear it while bathing or swimming, and avoid harsh chemicals such as chlorine and salt water. Additionally, dry your ring off after every use – even if it's just for a quick shower.