Elongated Diamond Shapes: How to Choose The Best One
In the realm of exquisite gemstones, diamonds have always held a special place. Their enduring beauty, unmatched sparkle, and timeless elegance have captivated hearts for centuries. In recent years, a remarkable evolution has taken place within the diamond industry, ushering in a new era of sustainable luxury – the rise of lab-grown diamonds. These diamonds have been known to increase in popularity over the years and have become a favorite among many celebrities and fashion icons alike.
They are made in a wide range of options from different fancy color diamonds to different fancy shapes diamonds with all carat sizes and every cut. With so many diamond shapes available, one of the most popular shapes right now is the elongated fancy-shaped diamond. In this blog post, we will dive deep into what makes elongated diamonds stand out from other shapes and why they are in trend nowadays.
Understanding Fancy Diamond Shapes
Fancy shape diamonds, also known as fancy cut diamonds, refer to any diamond shape that deviates from the traditional round brilliant cut diamonds. Unlike the classic round diamond, which is circular and has 57 or 58 facets, fancy-shaped diamonds come in a variety of non-traditional shapes. These shapes can range from angular and geometric to more organic and freeform designs.
Some of the most popular diamond shapes include

A diamond with a square shape and sharp corners. It is known for its clean lines which are known as the perfect 90-degree angled diamond and its modern appearance.

Emerald Cut Diamond
Rectangular with cut corners, the emerald cut is characterized by its step-cut facets and elegant, elongated appearance.


Pear Shape
Also known as a teardrop shape, it combines round and marquise cuts, featuring a rounded end and a pointed end.

Marquise Cut
An elongated larger stone, the boat-shaped diamond with pointed ends. It creates the illusion of a larger diamond due to its elongated shape.

Heart Cut
As the name suggests, this cut is in the shape of a heart, symbolizing love and affection, and is the perfect engagement ring choice.

Cushion Cut
This cut has rounded corners and larger facets, giving it a soft, pillow-like appearance.

Asscher Cut Diamonds
Similar to an emerald cut but square in shape, it features step-cut facets for a vintage and sophisticated look.

Radiant Cut
A square or rectangular cut with trimmed corners, known for its brilliant-cut facets that give it a vibrant sparkly diamond.
These shapes provide a wide array of options for those looking to stand out from traditional round diamonds. Additionally, fancy shape custom-cut diamonds often have longer facets, which enhances their brilliance. Embrace the beauty of elongated shapes of diamonds and showcase your individuality with these exquisite diamonds.
What are Elongated Diamond Shapes?
Elongated diamond shapes refer to diamond cuts that have a length-to-width ratio greater than 1.1, giving them an elongated appearance compared to more symmetrical shapes. Elongated diamond shapes, such as ovals, marquise, pears, elongated cushions, emeralds, baguettes, and radiants, are longer in shape than they are wide.
These elegant and elongated shapes create a graceful look on the finger, making them popular among celebrities and trendsetters. They can also make fingers appear slimmer and more refined.
Trending Elongated Fancy Shape Diamonds Over 3 Carats
Elongated fancy-shaped diamonds over 3 carats are highly sought after due to their impressive size and stunning beauty. Their elongated proportions not only make them appear larger than their carat weight suggests but also lend an air of sophistication and elegance that is simply unmatched.
One of the key reasons behind the popularity of these exquisite diamonds lies in their ability to elongate the wearer's finger, creating an illusion of slender grace. Whether set in a classic solitaire engagement ring, an intricate halo setting ring, or an elaborate three-stone design ring, these lab diamonds possess a versatility that allows them to shine in a wide range of settings.
The Brilliance of Radiant Cut Diamonds
Radiant diamonds exude unparalleled brilliance and fire, making them a captivating choice. With a unique blend of step cuts and brilliant cuts, the radiant cut showcases elegance and sparkle. Its rectangular and elongated shape, with trimmed corners, adds to its distinctive appeal with maximum sparkle.
Embracing both classic and contemporary styles, radiant diamonds offer a versatile look that suits any occasion. From engagement rings to exquisite trendy jewelry designs, these diamonds never fail to make a statement. Their exceptional beauty truly sets them apart.
How to Identify High-Quality Radiant Diamonds?
To identify high-quality radiant diamonds, look for those with a color grade of D-F and a clarity grade of VS2 or higher. You can also go with different fancy color diamonds like fancy yellow color, green color, or fancy pink color diamonds for a trendy lab-grown diamond collection. Optimal sparkle and brilliance can be achieved through excellent symmetry and proportions. Consider the carat weight and overall size to fit your budget and desired aesthetic.
The Allure of Oval Diamonds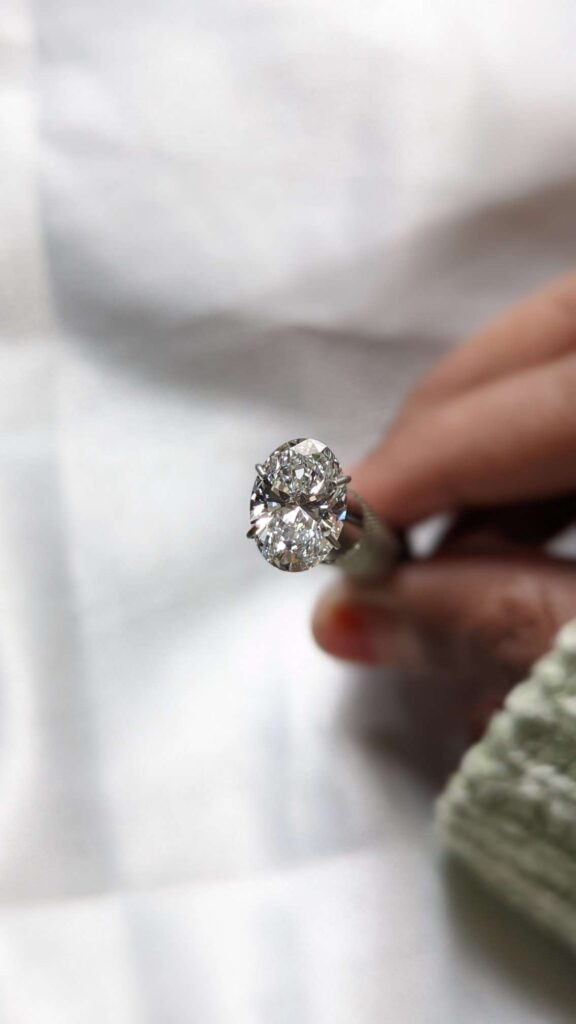 Oval shape diamonds are renowned for their timeless and elongated shape. With a silhouette that creates the illusion of longer, slender fingers, they offer a unique allure. These diamonds boast excellent brilliance and fire, comparable to round diamonds.
Their versatile shape makes them suitable for classic and vintage jewelry or vintage-style engagement ring designs. It's no wonder that oval diamonds are a popular choice for engagement rings and statement pieces. Their captivating beauty is truly irresistible.
How to Choose the Perfect Oval Diamond?
When choosing an oval cut diamond, consider the length-to-width ratio that suits your preference. Look for a symmetrical shape and well-proportioned diamond. Pay attention to the cut grade for optimal brilliance and sparkle. Choose a color grade that complements the metal setting, and consider the clarity grade based on your personal preference and budget.
The Sophistication of Elongated Cushion Cut Diamonds
Combining the classic cushion shape with an elongated silhouette, elongated cushion cut diamonds offer a contemporary twist to the traditional square cushion cut. Their elongated shape enhances brilliance and fire, making them highly sought after by today's generation for their sophisticated and timeless appeal.
Ideal for engagement rings and fine jewelry pieces, these lab diamonds exude elegance and radiate a sense of luxury with an affordable option compared with natural ones. With their unique blend of classic and modern aesthetics, elongated cushion diamonds capture the essence of sophistication.
What Makes Elongated Cushion Diamonds Unique?
Elongated cushion diamonds offer a unique blend of vintage-inspired charm and modern elegance. With their rectangular shape and rounded corners, these diamonds create a larger face-up appearance. Their soft edges and brilliant facets add to their allure, making them truly one-of-a-kind.
Conclusion
In conclusion, fancy diamond shapes add a touch of elegance and uniqueness to any jewelry piece. Elongated diamond shapes, such as ovals, pears, cushions, and radiants, are particularly popular nowadays for their striking appearance and versatility. These elongated shapes create a flattering effect on the finger and make for stunning center stones in engagement rings.
When choosing an elongated fancy-shaped diamond, it is important to consider factors like 4cs of diamonds including cut, color, clarity, and carat weight to ensure you find the perfect stone. Whether you prefer the timeless beauty of ovals, the sophistication of pears, the uniqueness of cushions, or the brilliance of radiants, elongated shapes offer a wide range of options for those seeking a truly special diamond.