Oval Solitaire Engagement Ring: Buying Guide For Bridal
Oval solitaire engagement ring with a center stone and two side stones. The side stones are set in the same way as the center stone, but they have no prongs to hold them on there are single alone oval solitaire available that can use over ring for purpose of engagement but seems classic one, to go beyond the classic one to modern and attractive there are oval shape design with cluster diamond solitaire rings available which you can choose for bridal.
This oval solitaire engagement ring is made of 14k white gold or yellow gold metals. Starts with 0.50 carat of diamonds to goes with higher carat diamonds but in engagement time couples preferred 1 carat to 5 carat of diamonds in ring to impress bridal.
Many celebrities wear oval-shaped solitaire diamond rings, and Teresa Giudice, Ariana Grande types of female celeb recently wore one after becoming engaged. 
Keep In Mind When Choose Oval Solitaire Engagement Ring
Choosing a perfect ring is the most difficult aspect, but if the bride can decide on the form, size, and carat before purchasing an engagement ring, it will be much easier to make a decision. However, you must first understand all of these in depth, so a buy a oval solitaire engagement ring is a easiest way option.
Diamonds (Oval Solitaire)
Diamonds are well-known for their eternal age and long-lasting shine, and that is why couples love diamonds for long-term bonding, And in engagement time people are choosing diamond ring rather than full of gold one. In current time there are two types of diamonds available: natural real diamonds and lab grown diamonds, often known as CVD diamonds. Due to their radiance and ease of availability, lab created diamonds have become extremely popular in a short period of time.
You can choose a diamond as per carat, color and shapes for your engagement ring shapes are more important current time that can reflect your personalities.
We can cover few diamond factors points down below that can determined about diamonds rings.
Shapes Diamond Engagement Rings
Round engagement rings are the traditional choice for many couples who want something simple and timeless. A round diamond engagement ring has a smooth surface, making it easy to clean and maintain. It also makes the ring less likely to scratch when worn. However, oval shapes are one of the most popular shapes, and in solitaire, they may be more in demand among couples.
In oval solitaire engagement ring there are Pear shaped engagement rings also available which are more elegant than round ones because they give off a wider appearance. They are perfect for women who prefer a more refined look.
Diamond Clarity
Diamond clarity refers to the degree of transparency in a diamond. In general, diamonds that have higher levels of light transmission are considered to be of better quality than those with lower levels. This is due to the fact that a clear diamond reflects light, while a cloudy diamond absorbs it.
Diamond Color
Color is another important factor to consider when choosing your engagement ring. Some people prefer diamonds that are completely colorless, while others like to see some color in their diamond. If you're unsure about what type of color you would like, ask your jeweler to help you find the right diamond.
Cut
Cut is the final element to consider when shopping for an engagement ring. Most jewelers offer different cuts of diamond, including emerald cut, pear cut, radiant cut, cushion cut, and princess cut. Each cut gives a unique look and feel to the diamond. You should always try to get
Carat
The diamond carat (or carat) is a unit of mass in the metric system equal to 0.2 grams. One carat equals 200 milligrams. The larger the carat weight, the bigger and brighter the stone looks.
Gold Metals Used In Oval Engagement Ring
Most engagement rings are set into a band made of precious metal such as platinum, 18K rose gold, or white gold And Yellow gold. These engagement or wedding bands metals serve multiple purposes, including providing stability, protecting the diamond, and adding a touch of class to the overall design. When it comes to engagement or wedding rings, the most popular options are rose gold and white gold because of its reflect bonding color.
Engagement Ring Size
When selecting a ring size, it is best to go by the finger width rather than the actual ring size. To determine this, wrap a tape measure around the base of your finger where the knuckle meets the hand. Your ring size should be one full size smaller than the measurement. For example, if your finger measures 8 inches, then your ring size should be 7 1/2. There is a ring size chart available that will help you identify your exact finger sizes and which one you should order.
Ring Band Style
When it comes to engagement rings, the style of such band is much important because it gives you a specific look. When selecting a ring band, there are several things to consider. First, you need to determine how big you want your ring to be. Next, you need to choose between a classic style or modern style. Finally, you need to determine whether you want a single or double row of stones. There are lots of types of style available which you can see below list.
Single Row vs Double Row
A single row engagement ring is usually smaller and thinner than a double row one. Single rows tend to be more affordable, while double rows are typically more expensive. However, if you plan on having children later on, then you may want to go with a double row ring.
Classic Style vs Modern Style
Modern styles are sleek and contemporary, while classic styles are more Round engagement rings are the traditional choice for many couples who want something simple and timeless. They are perfect for women but oval solitaire engagement ring is in trending and demand by bridal with vintage classic style and modern style design touch.
Oval Engagement Ring Collection Ideas
Below is the oval solitaire engagement ring options you can choose it for engagement or weeding time.
Green and Yellow Diamond Color Oval Engagement Ring
A green and yellow diamond color oval engagement ring is a oval cut diamond center fitted that is surrounded by a halo of smaller diamonds along with dual ring band comes with this oval solitaire style ring. The most popular colors among women are white, black, and silver. But when it comes to choosing the right color for an engagement ring, the choice is entirely personal.
White Diamond Oval Solitaire Engagement Ring
Engagement is a special time in one's life, and it calls for a special ring. If you are looking for an engagement ring that has everything you want on it, you need to look at the White Diamond Oval Solitaire Engagement Ring. The diamond is set on a white gold band with an inside shank of diamonds to accentuate the beauty of the ring.
The White Diamond Oval Solitaire Engagement Ring is elegant and stylish, perfect for any woman who wants to stand out from the crowd at her engagement or wedding day. It also features an elegant platinum shank that will match any wedding dress or suit that she wears on this day.
Classical Style Oval Solitaire Engagement Ring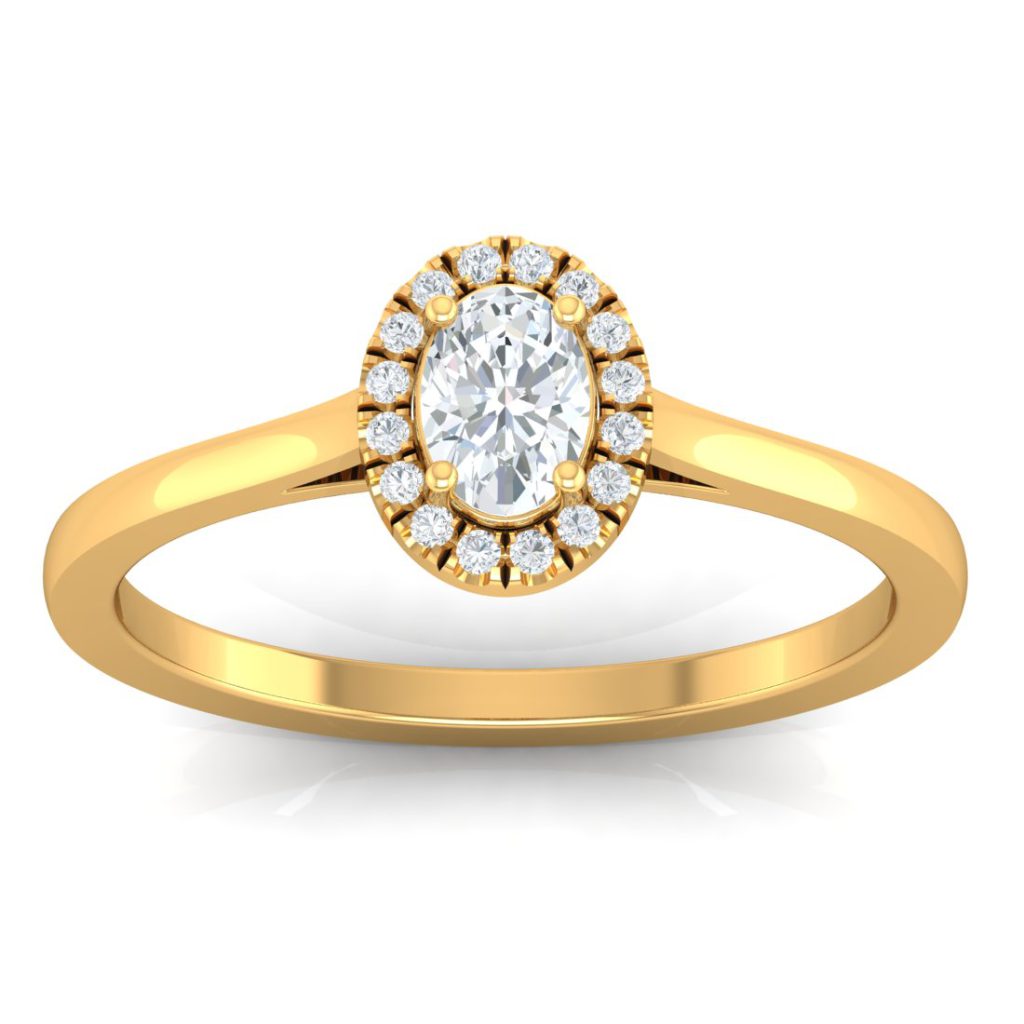 This ring is made of yellow gold metal and this unique style will make it your unique style. The unique shape of the ring coupled with the high-quality metal make it a perfect choice for anyone who wants to stand apart from the rest.
The Classical Style Oval Solitaire Engagement Ring is an elegant piece that can be worn on any occasion. This beauty matches any outfit because it has a timeless design that will never go out of fashion. It features a round center stone, which is set to give off an amazing shine. The top portion of the gemstone has been cut in an oval shape, giving it its name.
This ring has many advantages, one being its size. It is available in different sizes so you are guaranteed to find one that fits your finger perfectly! You can also choose between
Oval Half Eternity Diamond Ring
An eternity ring, also known as an eternity band, is a ring with a repeating pattern of beads, usually diamonds. Eternity rings are often worn alongside engagement rings when being married in Western culture or in other religions.
The wearer may have the option to have the diamonds replaced with any type of gemstone. This ring is typically crafted from gold or platinum and is made in a variety of styles to suit the taste of the wearer.
Dual Band Eternity Style Oval Solitaire Engagement Ring
The dual band style is a great choice for an engagement ring. It can work well with one of the bands being a wide eternity band and the other band being a simple, delicate design.
The eternity band is perfect when it comes to showcasing different types of diamonds in different cuts. The second band can be much simpler and more tasteful than the first one. It could be a plain, minimalistic design or it could be an interesting type of diamond cut that has never been seen before.
Side Stone Oval Shape Solitaire Diamond Engagement Ring
A side stone oval shape diamond engagement ring is a beautiful way to show your affection. It features a small stone set in the center of an oval shape diamond. A side stone solitaire engagement ring with a center of an oval shape diamond is the perfect way to show your affection. This type of ring features two small stones that are engraved in the center of an oval shaped diamond.
This ring is available in gold, platinum, and lab-grown diamonds. It also has a clarity option of vvs1 or vvs2 Contact with just inquiry button for quote.
Two Flower Oval Engagement Ring
The ring is set with three diamond stones, side on oval shape diamond. The ring is made of high quality 18k gold and platinum.
For any jewelry purchase it is important to be aware of the quality of the metal and diamonds they are using in their designs. This will help you to detect any flaws in the design and assure that you are getting your money's worth when purchasing your jewelry.
Princess Style Promise Oval Engagement Ring
This ring will make the perfect promise to your loved one. It has oval shapes diamonds that are set in 18K white gold. The diamonds are shine and sparkle with every move you make, and they will be a constant source of joy in your life. It is a very affordable ring for all budgets. Princess Style Promise Oval Engagement Ring is a fresh take on an old fashioned engagement ring style.
Rose Gold 1CT Oval Solitaire Diamond Engagement Ring
This is a very traditional engagement ring that has the centerpiece of the ring. It is set in rose gold and can be worn by both men or women.
This style is often called "a big size oval shape diamond set on center of ring band." This can be seen most clearly when looking at the girdle, which will have a perfect oval shape with sharp edges, unlike other shapes which have more rounded corners.
The Rose Gold 1CT Oval Solitaire Diamond Engagement Ring has many different aspects to consider when purchasing it. Weighing different factors may affect how someone might feel about the ring, but in general people are drawn to this style because of its classic elegance and timeless
Single Stone Oval Diamond Engagement Ring
This engagement ring is a great choice if you want something simple and elegant. It features a single round brilliant cut diamond that is centered within an open heart setting. This ring is available in yellow gold, white gold, and platinum. This ring is available in sizes from 5 up to 10, so there is no need to worry about not finding the right fit for you. If you would like to see more options, please contact us.
Engagement Ring Band Styles
There are essential eye captivating ring band styles to make your engagement ring trendy and attractive. There are classical simple bands to current style eternity style bands accessible that you may choose as per your style and personality. The majority of couples go for the simplest option.
| | |
| --- | --- |
| Ring Band Style | Details |
| | Bar Ring Band |
| | Bezel Diamond Ring Band |
| | Channel Setting Ring Band |
| | Claw Diamond Ring Band |
| | Pave Diamond Ring Band |
| | Classic Ring Band |
Prong Style For Engagement Ring
Diamonds are set in a prong setting. The prongs hold the diamond securely within the band, and allow for maximum light reflection. Prong settings are available in round, oval or princess cut diamonds.
Engagement Ring Settings
The most popular engagement ring setting is the prong setting. This type of setting allows you to choose from several different styles of prongs: Round, Princess Cut, Square, Marquise, Ovals, Hearts, Pear Shaped, Baguette, Cush etc. Below is the list of prong style.
| | |
| --- | --- |
| Prong Style | Name |
| | 6 Prong Style For Diamond Engagement Ring |
| | 4 Prong Style Diamond Engagement Ring |
| | 3 Prong Style Diamond Engagement Ring |
How Did This Ring Prong Work?
The Diamond Ring Prong works by increasing the amount of light that is able to pass through the diamonds, so they sparkle more. A proper prong can hold the diamond in place properly; a larger diamond will require more prongs, but 4 prong is more popular and the diamond will appear more lovely as a result.
FAQs:-
What Is an Oval Engagement Ring?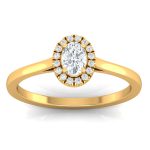 An oval engagement ring is a type of diamond ring that can be designed in different styles. It is also available in different shapes and cuts, but the round cut is the most popular. Oval engagement rings are gaining popularity recently because they are more feminine than traditional engagement rings which are often round or square.
How To Buy An Oval Diamond Ring?
There are an online platform you can buy oval diamond ring like finegrowndiamonds.com where you can order your favorite design ring and they are make it as per your order and comfortable way. Finegrowndiamonds are using labgrown diamonds for that reason you will get affordable oval diamond ring engagement ring. 
What is Precious Metal?
In Oval diamond ring there are various precious metals used like gold, platinum and silver but bridal preferred platinum and gold 
So Why Are Oval Engagement Rings So Popular?
The popularity of oval engagement rings is contributed to the fact that they are considered to be more modern, chic and stylish. These rings are also said to be perfect for women who have long fingers.
Are Oval Diamonds More Expensive?
The shape of a diamond is also believed to affect the price. The oval diamond is believed to be more expensive than the round diamond because of its rarity, but in lab grown it is possible to get easiest way and less expensive.
Though the shapes have no effect on the brilliance or clarity, they do have an effect on how much light gets into the gemstone from every angle. Oval diamonds are also better for shapes that are less symmetrical as they can be cut in a way that will maximize what is good about them and minimize what is not so good.
How Many Carats Should An Oval Engagement Ring?
The answer to this question may depend on what size and shape you prefer.
If you like a large and chunky look, then an oval with a high carat weight may be your best bet. But if you prefer something more delicate, some people might say an oval engagement ring with fewer than 1 carat is the way to go.
Keep in mind that the number of carats is just one factor that contributes to the overall price of an oval engagement ring. So, while it's important to consider how many carats you want in your ring, there are other factors that should be taken into consideration as well.