6 Prong Engagement Ring: You Should Buy For Your Bae
The 6 prong engagement ring is one of the popular styles for a diamond engagement ring. The six-prong engagement ring has been around since the early 1900s and was originally used as an alternative to the traditional four-prong engagement ring. Today, however, it's become a very popular style that many couples choose when they are looking for their perfect engagement ring.
Selecting an engagement ring is easy but selecting between their prongs is more difficult. Whether you're getting engaged this year, or want to buy an engagement ring for your bae, and just hear the term for the first time ever, you'll find it helpful with this article. Here we'll go into all the prongs and give you a rundown of which prong is best for you.
What is a Prong?
A prong is a tooth with a sharp, rounded, v-shaped or flat point. It is the metal in the center of a ring that holds diamonds or other precious gemstones. The center of a pronged setting is designed with angles so that when put on her finger, it nicely accentuates her finger while protecting her diamond.
Rounded prong
A round prong is the most commonly used prong, especially on engagement rings. A round pronged ring is perfect for those who want an engagement ring that doesn't stick out too much.
Pointed prong
Pointed prongs are the best choice for those who prefer a sharp look. It is best for those who like to accentuate the prong setting and love the dramatic look.
Flat prong
A flat prong made of pure metal is ideal for those who prefer a soft appearance. This is also good for those who like to wear diamonds with safety.
V-shaped prong
V-shaped clips are excellent for sharply pointed diamonds like marquise, princess, pear cut. This prong is perfect for those who like something unique for their engagement ring.
After reading the above descriptions, you might have an idea of which prong style you would want. However, if you need some help in deciding which type of prong is best for your engagement ring, here are some tips. With this, rest assured that your ring will be noticed by everyone around you.
Popular Prong Setting In Engagement Ring
There are various types of prong setting available but 4 prong and 6 prong are one of the demanding and popular one. You can choose from many different types of prong settings for engagement ring. The 2 most common types are the 4 prongs, 6 prongs. Each prong setting has its own pros and cons. Let us take a look at them below.
4-Prong Engagement Ring Settings
The 4-prong setting is the most popular ring setting in engagement and wedding ring. This type of setting is great because it gives you maximum flexibility. If you change your mind about what kind of stone you want, you don't have to worry about changing the setting as well.
Pros:
Easy to clean
Great for people who like to wear rings on an everyday basis
Fewer prongs mean less metal use on the diamond
Cons:
Not suitable for large stones
Don't offer much protection for a girdle as compared with a 6 prong setting
Can't hold diamond as securely as a six-prong setting
6 Prong Engagement Ring Settings
If you prefer something more secure than the four-prong setting, then the six-prong setting is perfect for you. It offers a lot more security than the four prongs set up. It also allows you to place larger stones without worrying about losing any of the precious gems.
Pros:
Larger stones can be placed easily
Making your diamond more secure
Gives better grip and good protection for diamond girdle
Cons:
More expensive than the four-prong setup
Difficult to clean
Prongs can overshadow diamonds that are smaller than half a carat
Choose A Right Engagement Ring Setting With 6 Prongs
After deciding on the prong setting, diamond cut, and diamond carat, there are many other types of design that you can choose for your girlfriend, wife. love partner and bae. Pick unique style that suits your fiancée. If you still don't have any idea about what setting to choose, then here are some styles of diamond rings that will work best with a six-prong setting.
6 Prong Solitaire Plus Hidden Halo Diamond Ring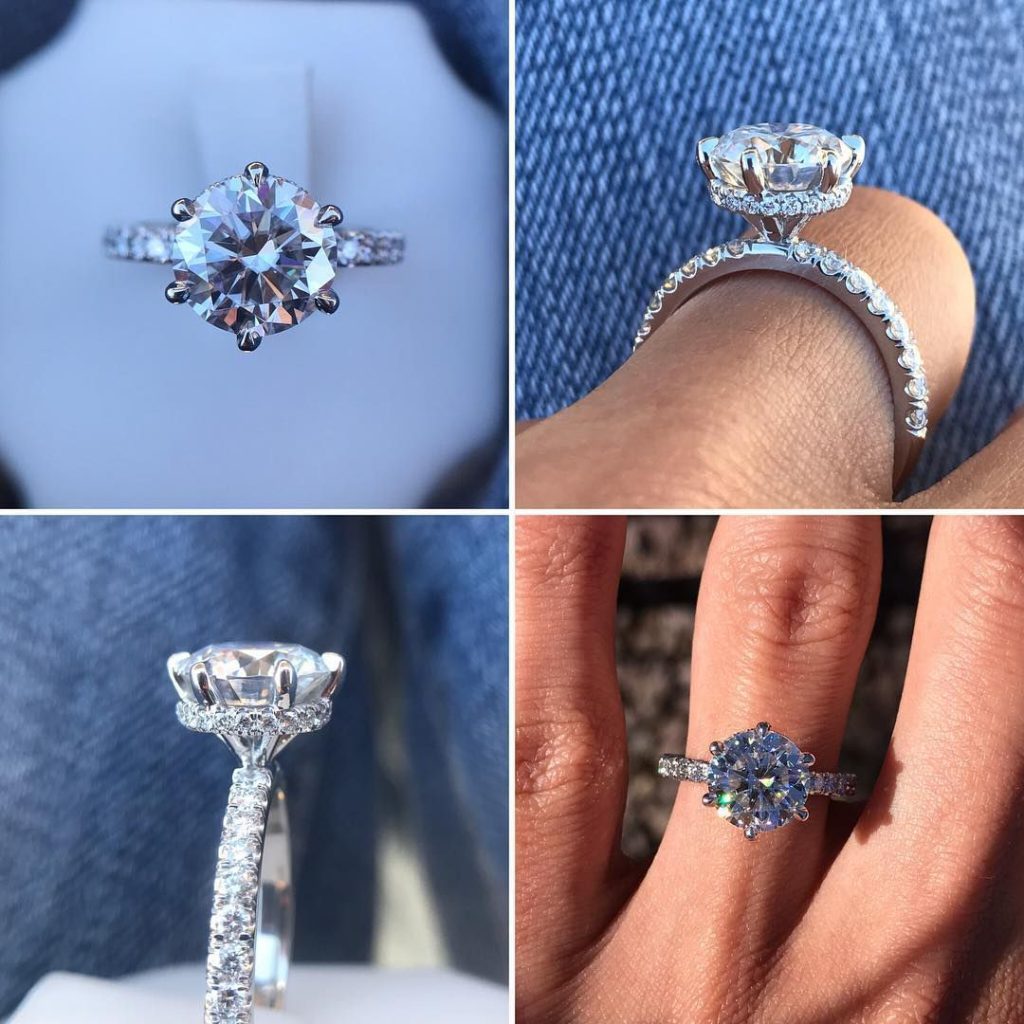 A solitaire ring with a hidden halo diamond is a great choice for a wedding band or an engagement ring. This type of ring gives a very romantic feeling. It makes your girlfriend feel like she is being admired by everyone around her. You can choose any diamond shape for this setting but round-shape is the most well-known diamond for this engagement ring.
Crossing Style 6 Prong Cathedral Ring Setting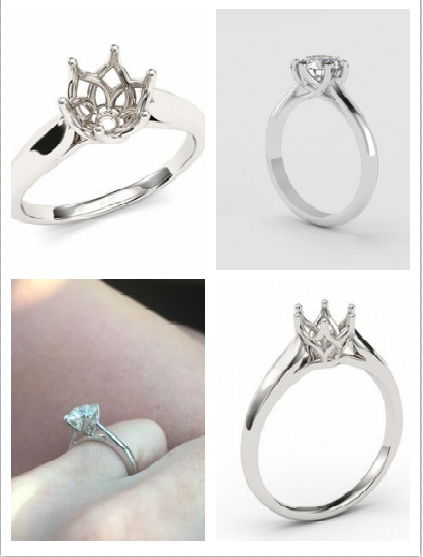 This is another popular choice for an engagement ring. It works perfectly fine for an engagement ring. It's simple yet elegant. It's easy to set up as well. You can get this ring in various colours like white gold, yellow gold, rose gold, etc.
Beautiful Filigree 6 Prong Setting Ring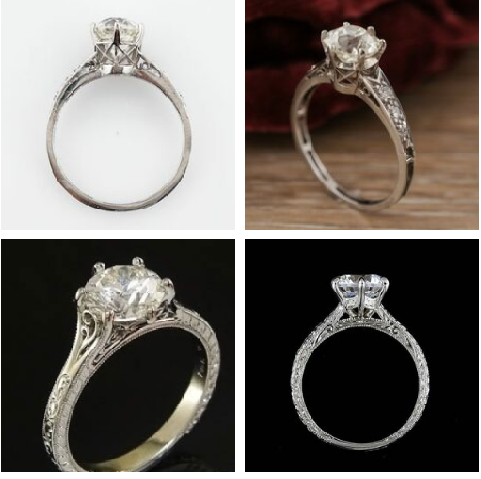 Filigree is a beautiful way to add elegance to your engagement ring. It'll give your girlfriend a unique look. She'll love how it adds extra sparkles to her finger. You can choose from different styles of filigree such as floral, leafy, and scroll designs.
6 Prong Basket Pave Band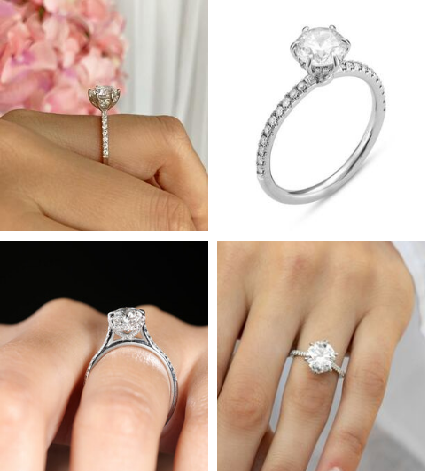 Basket pave bands are a common choice for engagement rings nowadays. They're available in different shapes and sizes. You can choose from square, rectangular, and heart-shaped ones. You can choose from these styles depending on what you think would suit your girlfriend the best.
Simple Solitaire 6 Prong Engagement Ring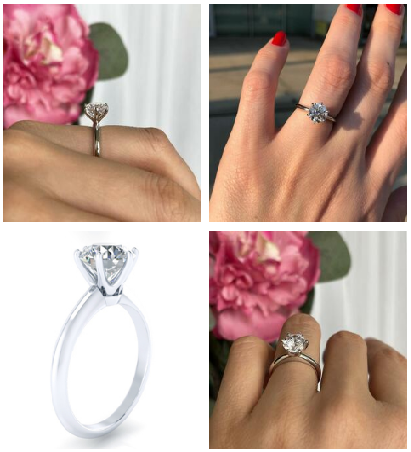 There are lots of variety available which you can choose it for engagement or you can customized it as per your design and theme with finegrown diamonds. But if you're looking for something simple, then you can opt for a simple solitaire 6 prong engagement ring. It'll be a good choice for an engagement ring. It'll also help you save money since it's less expensive than other options.
4-Prong or 6-Prong Ring Which One Is Right ?
Prong is hold a diamond on a ring but when choosing between these two options (4 or 6), there are several thoughts and question comes into mind. Some of common are mention below:
How big is your diamond?
Do you plan on wearing your ring every day?
Which one do you think looks better?
"Above one are just some of the questions you should ask yourself before buying an engagement ring"
Which One More Expensive, 4 Prong or 6 Prong Based Rings?
Price is one of the most important factors that consideration when you purchase an engagement ring. The 4 prong ring is cheaper than the 6 prong setting because you don't have to add any more metal. Although the 6 prong is more expensive because it's worth it, you can have larger stones. If your choice of stone is bigger than half a carat, then the six-prong setting is the just one for you.
Cleaning And Safety For 4 Prong Ring & 6 Prong Rings
Safety:
Though the 4-prong ring is cheaper, many people still choose the 6-prong setting. This is mostly because of the protection of your diamond. If you value safety then perhaps a 6-prong setting is what you need. More metal means more protection and less risk of losing your precious gemstone.
Cleanliness:
This factor is also something to consider when it comes to choosing between 4 prongs or 6 prong settings. The 4-prong setting is best for those who are worried about the dirt trapped between their diamond and the metal. 4 prongs diamond ring is easy to clean as compared to 6 prongs diamond ring.
Popular Diamond Shapes Used In 6 Prong Setting
The 6 prong engagement ring is a classic and timeless choice for any woman. It's a beautiful way to show your love, commitment and devotion to the one you adore. If you are looking for the best diamond-shaped for your engagement ring that will make her feel special, then you can choose from many different options.
Round shape cut diamond
Round shaped diamond six prong engagement ring is one of the most famous rings settings you can choose. This is a classic look that has been popular since the 19th century. This is the most common shape you can find with the 6 prong setting.
Pear cut diamond
Rounding off at the top of a stone and sharp point on one side is the classic pear cut diamond. If you want something that looks larger than a round cut but doesn't want to go for an extremely modern look, then this might be an option for you. Its elegant design can be placed in a six-prong setting with ease.
Cushion cut diamond
The cushion cut is one for those who want something more sparkle. This shape has a rounded on the bottom and flat on the top. It looks good in a 6 prong setting but most people also use this diamond shape with 4 prongs.
Oval cut diamond
Another most famous diamond shape is the oval cut. It's a versatile shape that can work with any prong setting. When it comes to the six-prong setting, you can use this shape with ease.
Diamond Carat Use In 6 Prong Engagement Ring
One thing that you need to consider when choosing the perfect engagement ring is the size of the diamond. For example, if it's too small, it won't be worth anything. If it's too big and bulky, then you might not like wearing it all the time. You need to make sure that your diamond is small enough so that you can wear it every day. The diamond in 6 prongs setting should be at least 1 carat diamond above one like 2 carat, 3 carat etc.
How To Buy A 6 Prong Engagement Ring
Choosing the correct engagement ring setting isn't easy as we think it is complicated. There are lots of choices available. So, before making your final decision, you should first know what kind of prong setting you want. Then, you can narrow down your search based on the diamond carats, the diamond cuts, the diamond shapes, and more. After that, you can start shopping for the right ring prong setting based engagement ring. Here are some tips that you can follow when buying a 6 prong engagement ring.
1. Choose the correct diamond size
The first thing that you need to do is decide which size of diamond you want to use. If you want to go big, then you can choose a larger diamond. However, if you want to keep things small, then you can go for a smaller one. Either way, make sure that you buy the right size. Otherwise, you might end up having a bad experience.
2. Decide on the colour
Next, you need to decide on the colour of the diamond. Do you want a lighter tone? Or maybe a dark one? Whatever you prefer, but try to go with a colourless diamond between D-E-F-G colour.
3. Go for the perfect setting
Once you've decided on the diamond's size and colour, you can move on to choosing the right engagement ring setting for your diamond. There are so many settings out there. Some of them are too complicated while others are too plain. So, you should consider all these factors before going ahead with your purchase.
4. Get the right price
Finally, you need to decide how much you want to spend on your engagement ring. Of course, you don't want to overpay. But at the same time, you shouldn't skimp on your budget either. So, you should balance both aspects.
FAQs:-
Why Should You Choose a Four Prong Design?
4 prong engagement rings are very popular among women today. This type of engagement ring has been around for decades now. And it still remains relevant even after all this time. People like the simplicity of this design. Plus, they feel that it will last longer compared to other types of engagement rings.
Why Should You Choose a Design With 6 Prongs?
6 prong engagement rings have become increasingly popular lately. Women love the uniqueness of this type of engagement ring. Plus, they feel comfortable wearing it because it looks elegant. It also keeps your diamond safer as compared with a 4 prong setting. 
image source : google