"7Cs" of diamond to consider for a unique engagement ring
"7Cs" to be considered before buying a diamond for her engagement ring and Why Lab grown Diamond are a better option than natural diamonds?
An engagement ring is often the most important part of jewelry which people buy during their lifetime. First you need to set some targeted cost .If you are having limited budget then experience of choosing a fascinating natural diamond ring with a price you are managing can be difficult. Yes! Now you have new option to choose man made diamonds which are lab created cvd diamonds and will fulfill your demands and the budgeting cost you are looking for your diamond engagement ring.
Benefits of choosing lab grown diamond for your engagement ring:-
You can still have attractive and flashy look for your diamond engagement ring with your inexpensive amount. You can still give your partner an engagement ring they love because we understand their choice will be a priority for you. You can buy lab created diamond which are bigger than the natural counterpart and have same or better clarity and brilliance within an affordable budget. If she likes simple designs of an engagement ring try the Lab Grown Solitaire Diamond Engagement Ring which is elegant and yet gives a richer look.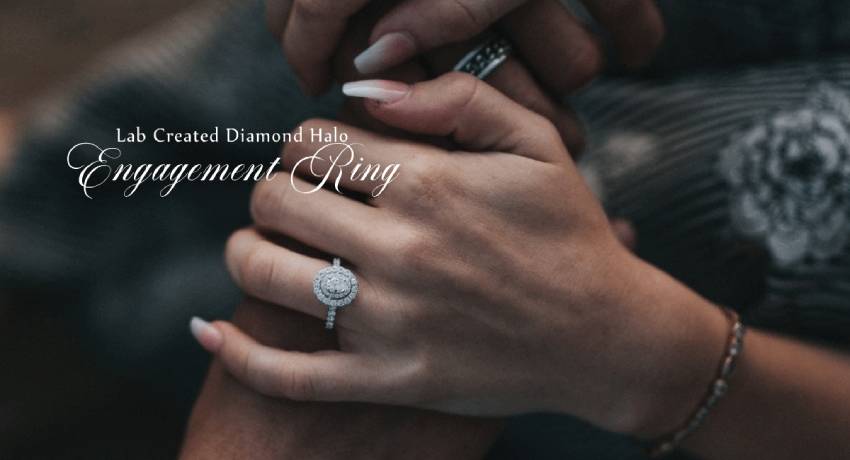 You know that most interesting thing about lab created diamond is they are eco-friendly. These man-made diamonds are cultured in lab without harming Mother Nature. They are not mined so it is better option for a person who wants to try an ethical ecofriendly lab made diamond for their diamond Engagement Ring.
Buying lab created diamonds or natural diamonds:-
Only Choosing design and Cost this "2 Cs" is not enough and you have to also consider other "5 Cs" namely Cut Color, Clarity, Carat and Certification of a diamond. Before buying an engagement ring whether it lab created or natural diamond you need to give importance to these parameters of a diamond as they influence the value and luster of the diamond. Engagement ring is really special outfit which you are going to wear though out your life. You need to invest your money to buy a special lab cultured diamond ring which is perfect and loved by your partner and the diamond price doesn't burn a hole in your pocket.
Cut & Polish of a Diamond
Diamond Cut comprise of symmetry and polish of the diamond which offers better brilliance and excellence. Normally and ideal or excellent cut diamond would emit better shine than a very good, good or fair cut of diamond. Always choose a lab grown or natural diamond which offers brilliant cut as it's shinier and subsequently it will be easy for you to find a buyer if you want to sell that lab grown diamond in future.
Color of a Diamond
Color of diamond is another important parameter to consider because white colored diamonds usually are better emitter of light and hence derives better brilliance. The diamond color scale of D, E, F is better but usually very costlier. You should select a diamond which is near colorless range of G to I through naked eye and will bring the bigger diamond within the price range to allow you to opt for a bigger stone.
Clarity of a Diamond
Clarity depends on inclusion and blemishes of diamond .VS1 or VS2 are generally having best value for what we can see with naked eye. Inclusions and blemishes are not detectable in this category. SI is less expensive and VVS1, VVS2 and IF is priced exorbitantly. You should opt for a VS1 and VS2 clarity lab grown diamond which is affordable and clear to the naked eye.
Carat
Size of the diamond is very important when you are deciding a lab created or natural diamond for your engagement ring. As the size of the diamond increase there is an exponential rise in the price of the diamond. Usually the girl would want to choose a 1 carat plus diamond for her engagement ring if given a choice.
Going for a G to I color and VS1 or VS2 clarity diamond will give you the flexibility to choose a bigger carat weight diamond which suits your budget and her likes.
Diamond & Certification
Certification is necessary to identify quality of diamond. There are many types of certification GIA Diamond Certification, AGS Diamond Certification, EGL Diamond Certification, IGI Diamond Certification and HRD Diamond Certification available. When you are opting for a lab grown diamond go for IGI or HRD certified diamond as a center stone for your engagement ring. And if you choosing a natural diamond the industry authority in grading them is GIA.
Conclusion:-
To conclude on the importance of '7Cs' while choosing a diamond for your engagement ring; optimizing to your individual needs of carat size and price is very vital. After reading about "7Cs" of diamond you must know that all "7Cs" are equally important. To conclude our advice is to go for Lab created diamond for your engagement ring which would suit your budgetary needs as well as the carat size of the center diamond of the ring for you partner. Beside that choosing the simple yet elegant design for your engagement ring will make all the difference in exemplifying brilliance of your chosen lab created diamond. Focus on all the following "7Cs" and decide your "8th C" (conclusion to buy the right diamond for you engagement ring).
To get perfect engagement ring for your love contact our special guiding team on +1 609 363 0415 or you can mail us at contact@finegrowndiamonds.com For live chat process you can go to our site https://www.finegrowndiamonds.com/contact-us/