Shop a diamond engagement ring on a short budget
Short budget diamond engagement ring
A couple's paradise, or should we refer to it as Diamond engagement rings! Diamonds, the epitome of love, and a symbol of the strong bond shared between the couples; any wedding is incomplete without the presence of a diamond engagement ring. However, purchasing these rings for the love of your life is still a dream for many couples. The reason being, they can be too expensive to afford, and for many couples, not an economical approach.
Compromising on dreams of a perfect engagement ring shouldn't be an alternative because we have some suggestions on how you can purchase them in a short budget.
Lab Grown Diamond engagement rings:
With the advancement in technology, it is now possible to create diamonds in a laboratory. That's right! These are called Synthetic Diamonds or Lab Grown Diamonds.
Lab grown diamond engagement rings are an economic, environmental-friendly, and cruelty-free alternative to the natural one.
But, why buy lab grown diamonds?
We will focus on the comparison case. Couples are often confused about the choice and budget to make when it comes to buying a diamond ring for their special moment. Where the center solitaire diamond forms the major cost of the whole diamond ring.
There are two different ways to conserve worth, one is benefits of marketplace value quote, the other one is beyond its cost and irreplaceable. We can verify which one can save value more with simple example.
Until now couples didn't have a choice when they wanted to choose a big solitaire diamond engagement ring for the proposal. Often, they had to forgo other luxuries and choices in order to choose that perfect diamond for the solitaire engagement ring.
Smart choice for smart couple
Well, let us explain this point by using some examples and a short illustration.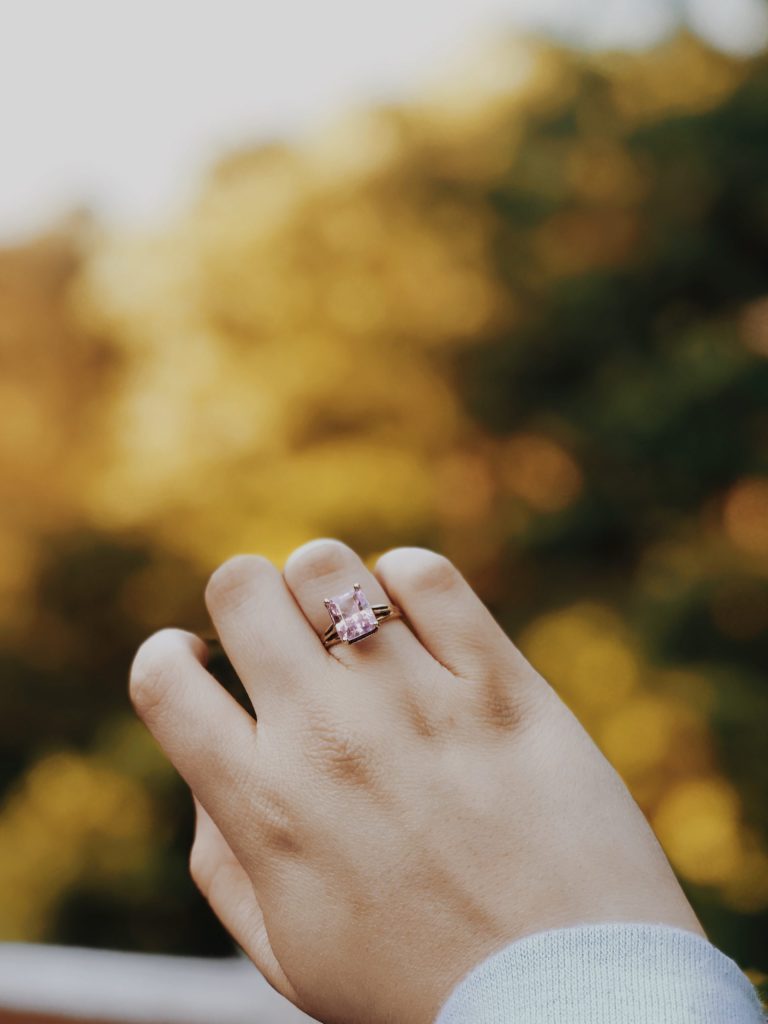 Let us assume that there are two couples with $10,000 each, as seen in the picture
Couple 1: Spends the whole money by purchasing a beautiful Natural diamond engagement ring.
Couple 2: Spends one-third of the money by purchasing a beautiful Lab grown diamond engagement ring.
Now, both the rings look similar, are 100% real and authentic, and are uniquely beautiful.
So, after purchasing the ring: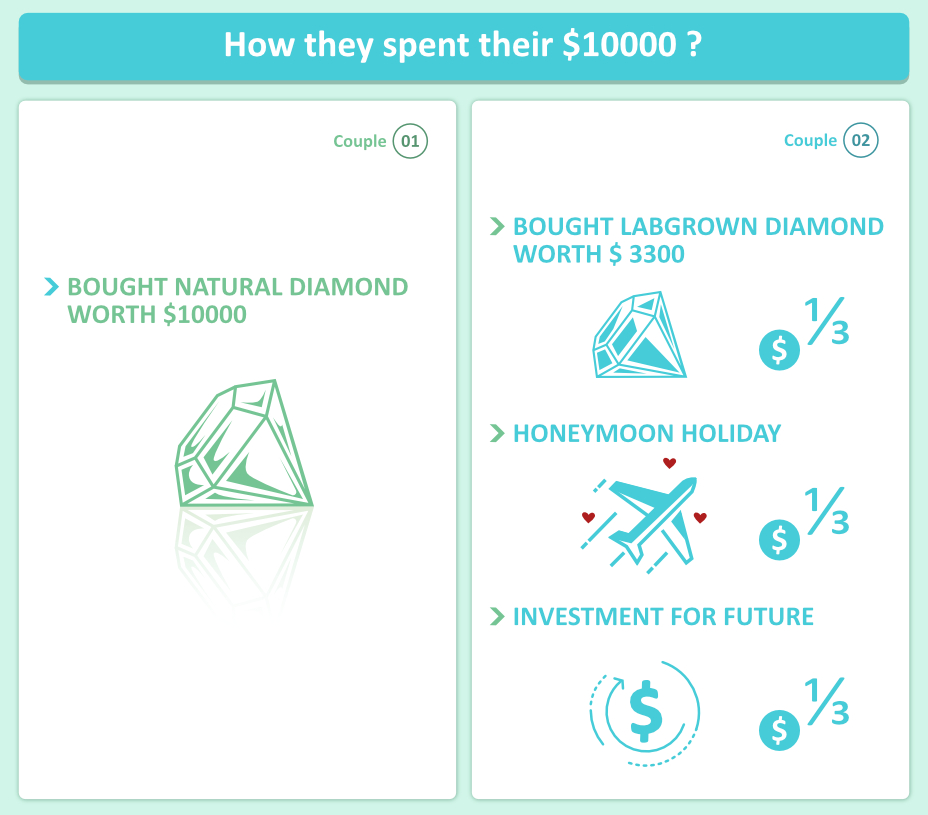 Couple 1: Has no money left, but they have a beautiful ring.
Couple 2: Two-third of the money is left even after purchasing a beautiful ring. Hence, they used the money to plan their honeymoon and even invest for future purposes.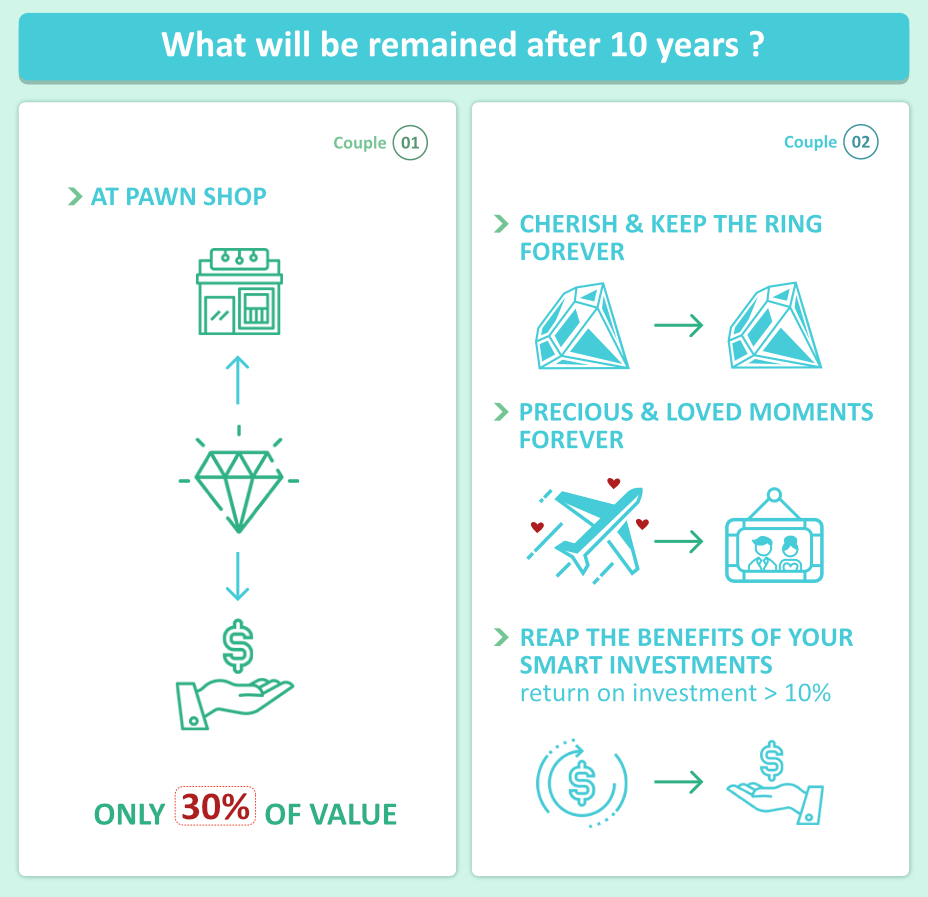 Couple 1: After ten years, when they try to sell the diamond ring, they will get only 30% of its value.
Couple 2: After ten years, the money they invested would be double its original value, and they have a beautiful memory that they can cherish forever.
So you see, if you want to shop for a diamond engagement ring on a short budget, Lab grown diamond engagement rings are not only an economical solution, but it is a smarter way to spend your money.
It comes with a Bags of benefits that you'll relish forever.
Purchasing a Lab-grown diamond when the budget is short is a smart choice as you not only get an authentic diamond ring of your choice, but you also get to save money that can come in handy while planning your dream vacation or investing for the future.
Where to buy a lab grown diamond with a short budget?
Third-party certification is necessary for any lab grown diamonds you are planning to purchase. Any diamonds that have certification from Gemological laboratories such as IGI, EGL, GIA, and AGS are safe to purchase.
Also, all Lab-grown diamonds contain the same chemical composition present in a Natural diamond, making them 100% authentic and real.
We have a wide range of Lab grown Diamond engagement rings and other diamond jewelry that are certified by IGI (International Gemological Institute) so that our customers don't have to worry about authentication. We also offer our customers with customization services to ensure that our customers don't have to compromise when it comes to the purchase of their dream diamond engagement ring.
An economical, environmentally friendly alternative, Lab grown diamond rings are the future of engagement rings. So, make a smart and economical choice, and purchase your dream diamond engagement ring now.